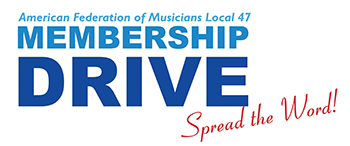 We've Moved!
We moved to our new headquarters at 3220 Winona Avenue in Burbank on Monday, July 17.

Our contact phone numbers will remain the same. During this transition we expect intermittent issues while reconnecting phone lines at our new location. If you are having difficulties contacting a direct extension, please call our main line at 323.462.2161, or contact us by email.

While construction is being completed on the Burbank site, events normally held at our union hall will be going on hiatus or moving to a temporary location. View our Events Calendar for more information.


Next General Membership Meeting
Monday, Oct. 23, 2017
View agenda
News
Take the Members' Career Survey - Something big is coming from Local 47... But first, we need to hear from you!
AB 1300: Bring Music Jobs Back to California - The Music Scoring Tax Credit would implement a long-sought system for supporting film and television music scoring jobs in California by bringing overseas scoring home.

More headlines:




Quick Links
Affiliates
Search Our Site

Donate to the Local 47 PAC
Let's take our concerns directly to City Hall! Your voluntary contributions will support candidates and legislation that furthers the goals of professional musicians in Los Angeles. Learn more