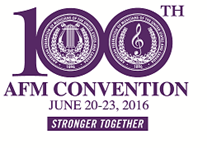 Convention Dates: June 20-23, 2016
Registration: June 19
Westgate Las Vegas Resort & Casino
3000 Paradise Road
Las Vegas, NV 89109
This year marks the 100th Convention of the American Federation of Musicians of the United States and Canada. All members are invited and encouraged to attend.

The convention will convene at the Westgate Las Vegas hotel in Las Vegas, Nevada, on Monday, June 20, 2016, at 11 a.m. The Westgate will be the official headquarters. Registration of delegates will take place in Pavilion 8 of the hotel's convention area on Sunday, June 19, from 3-6 p.m. and on Monday, June 20 from 8-11 a.m.
It is important that delegates register as soon as possible. For your convenience, you may now book your hotel reservation on line from this link, which will directly connect you to the Westgate's reservation page. You may also reserve your room by phoning the Westgate using their toll free number, 1-800-635-7711. If reserving by telephone, please provide the Westgate representative with the AFM's convention code, SAFM6R. To book your room today please click here.
We look forward to seeing you at this historic convention!