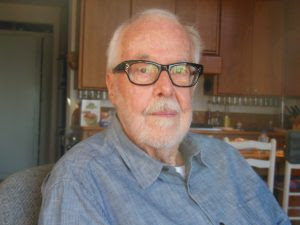 Wednesday, June 1, 2016 – 7 PM
$10 for Guests and Students
FREE for ASMAC & Local 47 members
Free parking
Meet-up & Check-in: 7-7:30 p.m.
Program: 7:30-10 p.m.
AFM Local 47 – Auditorium
817 Vine St. Hollywood, CA 90038
Jack Smalley, film and television composer, mentor of mentors and mentor of composing legends will share valuable film and television scoring techniques. Learn more about Jack during an interview by special guest Perry Botkin Jr. followed by Jack's in depth demonstration which includes printed scores, study material and audio examples.
ABOUT JACK SMALLEY
After the war (WWII), Jack took the G.I. bill back to Europe and studied composition with Darius Milhaud at the Conservatoire de Musique in Paris France for almost four years. While in Paris he performed with guitarist Django Reinhardt and American singer Annie Ross.
Back in the states he worked a bit with Vido Musso, Gerry Mulligan, Alvino Ray and Ray Conliff, then over five years with the Page Cavanaugh trio. He also studied serial composition with George Tremblay in Los Angeles.
Jack composed for episodes of Streets of San Francisco and Barnaby Jones, and then he joined Jack Elloitt and Allyn Ferguson working on Swat, Love Boat, and Starsky and Hutch, then did five years of Charlie's Angels. In the meantime, he wrote episodes for Knight Rider and Murder She Wrote and also orchestrated many films such as The Gladiator, Last of the Mohicans and Conan the Barbarian.
Professor of Film Composition at USC for 20 years, and a member of the permanent faculty at the Aspen Summer Music Festival, Jack was also on the faculty at the Dick Grove Music Workshop and headed the composition program at the Henry Mancini Institute.
He authored "Composing Music for Film" and "Lyrics Lyrics Lyrics" which are both available at jacksmalley.com, as well as a biographical book about his first year in France called "The Music Came First" available at Amazon.com.
ABOUT PERRY BOTKIN JR.
Perry Botkin Jr. grew up in California and graduated from North Hollywood High School, moving on to the University of Indiana and USC as a trombone major. He joined the army in 1953 and, after two years of service in the West Point Band, moved back to California and began his professional career.
In 1955 he joined the rock group The Cheers as a singer, trombone player, and arranger. The Cheers had a hit record – Leiber/Stoller's Black Denim Trousers and Motorcycle Boots. Perry left the group in 1956 and began his career as a freelance group singer, arranger, songwriter, and composer. He Wrote arrangements for dozens of artists in Pop Rock and the American Songbook world.
The '70s and '80s were spent working on movies and TV. He won a Grammy for Best Instrumental arrangement (Nadia's Theme) and was nominated for a Best Song Oscar (Bless the Beasts and Children). He is currently composing avant garde electronic music CDs and videos. Perry also plays an important role, musically and personally, in a documentary film about the creation of hip hop, titled Sample This, which will be released in art theaters in New York, Chicago, Los Angeles, and San Francisco in September. More info can be found at perrybotkinmusic.com.
Read about past ASMAC FIRST WEDNESDAYS events here.
* ASMAC members who would like to share music at a FIRST WEDNESDAYS event: please contact info@asmac.org Attn: Milton Nelson