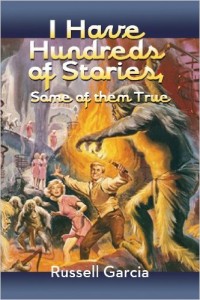 'I Have Hundreds of Stories, Some of Them True'
Author: Russell Garcia
In a unique refreshing style, world-renowned composer/arranger/conductor Russell Garcia relates the stories of the glitz and glamour of Hollywood during his many years writing music for films and television in his posthumously released book, "I Have Hundreds of Stories, Some of Them True."
His inimitable, delightful sense of humor comes through even when he's winning World War II single-handed. This is a wonderful inspiring book by a legendary icon who spent some 70 years in the music business. As a young boy in school, he taught himself to play trumpet and organized his own little band.  Fortunately, in high school, he had teachers who recognized his genius and encouraged him to write music. He later studied with Ernst Toch, Edmond Ross and Mario Castelnuovo-Tedesco. His break came when he substituted for an ill colleague on a radio show. Subsequently, he went on to become a composer/arranger at NBC Studios for television, and his work can still be heard today on such shows as "The Twilight Zone," "Laredo," "Fame is the Name of the Game" and "Rawhide."
He later worked at Universal Studios and MGM, where he composed and conducted the original scores for over 100 films including George Pal's "The Time Machine" (1960) and "Atlantis, the Lost Continent" (1961). He also orchestrated the music for "Father Goose" (1964) and "The Benny Goodman Story" (1956).
He also recorded with all the great luminaries like Ella Fitzgerald, Anita O'Day, Frances Faye, Julie London, Sarah Vaughan, Margaret Whiting, Louis Armstrong, Sammy Davis, Mel Tormé as well as many of the great instrumentalist stars such as Oscar Peterson, George Shearing, Buddy De Franco, Dizzy Gillespie, Stan Getz, Roy Eldridge to name a few. Known for his versatility in both jazz and classical music, Garcia has conducted many of his own compositions with symphony orchestras throughout Europe, America, New Zealand and China. He has written two text books, "The Professional Arranger-Composer, Book 1 and Book 2" which are used in universities around the world and have been translated into six languages.
Russell and his wife Gina made New Zealand their home in 1971 while continuing to work in the music and film industry. An adventurer, he and Gina cruised the South Pacific in their yacht Dawn-Breaker for almost six years. He was also a caring humanitarian who, together with his wife, taught virtues with music for some 39 years as a "labor of love" at three public schools in New Zealand for which each of them received the Queen's Service Medalfor Service to Music in 2009.
"I Have Hundreds of Stories, Some of Them True," published two years after his death, has received praise from luminaries in the music industry:
"If you have read any of this book, you can see that Russell Garcia has had a wonderful career. He attributes the wonderful life and sensational good luck he and his wife Gina have had because of their goal: Dedicating their life to trying to do their share in building a beautiful, happy, peaceful, world for the people of every race, religion, and country. Everyone should read this book. It has, as well as fabulous stories about so many famous stars, the answers to a lot of the problems we have in today's insane, mixed up world."
– Larson Craig, writer

"What a great book. Russ's stories of his 70 years in the music business are personal, unique, very interesting, full of laughs and certainly worth reading."
– Quincy Jones, Composer, Producer, Arranger, Conductor

"What a life! Russ gives us a condensed account of his life, his work, and his beliefs. He manages to find humor in some unlikely situations, and his music and lovable personality endeared him to many."
– Bill Holman, Leader of the Bill Holman Band
"I Have a Hundred Stories, Some of Them True" is available for purchase at buildabetterworldproductions.com. Build a Better World Productions, run by Russ's granddaughter and family, serves to revitalize the dream of Russell and Gina Garcia to build a better world through the education of all children and all peoples of the world through music, self-improvement, science and the arts, and self-empowerment.