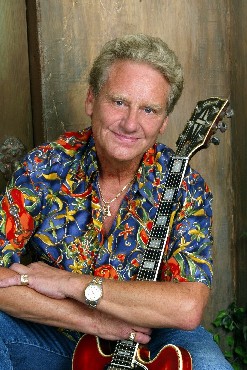 Life Member. Guitar
(1/22/1937 – 8/21/2015)
Al Bruno (Bruneau) was born in Sudbury, Ontario, Canada on Jan. 22, 1937. He attended bilingual kindergarten in Parry Sound, but because there were no French schools to continue his education, he moved back to Sudbury where he lived with his grandparents for two years. In 1945 Al moved from Parry Sound to Toronto with his siblings.
While attending school in Toronto, at the age of 9, he met two brothers and together they formed Al's first band, The French Trio. At 16 he worked with West Chapman's band, Prairie Dawgs. At 18 Al went to work for Jack Kingston and performed on Jack's TV show, "Main Street Jamboree," in Hamilton, Ontario, Canada. During this time he continued studio work. He later joined the Terry Roberts Band, performing in several nightclubs around Ontario.
In 1958 he met with Conway Twitty and was hire by him as his lead guitar players. He moved to the U.S. and was on tour with Conway for over four years. They played in every major city in the U.S., including Carnegie Hall in New York City. In addition to touring with Conway, he played lead guitar on Conway's recording sessions.
In 1963 he moved to Philadelphia where he worked for Dick Clark. During this time Al did session work with Apple and Swan records. In 1964 when Dick Clark moved his offices to California, he offered Al the position of Musical Director for "The Caravan of Stars" and he was billed as "Little Al Guitar." He traveled with the caravan all over the U.S., playing in every major city. There were about 40 major acts with the tour, which included the Supremes, Shirells, Dixie Cups, Gene Pitney and many others.
In September 1964 Al went to work for Duane Eddy's publishing company, playing guitar on his independent productions. Then in January 1965 he went back to nightclub work in Southern California. He joined Jerry Inman and the Individuals in June 1965.
Appearing regularly on a Dick Clark TV show in 1966 on NBC called "Swinging Country," he also continued studio work. In 1967 he recorded for such greats as Buck Owens, Rickey Nelson and Bobby Gentry. Later that year Al began recording for Merle Haggard. In 1968 he worked at the Palomino Club with Tony & Larry Booth, Jay Dee Maness and Archie Francis. During this time he also recorded for several hit TV shows: "Columbo," "McMillan & Wife," "Alias Smith & Jones" with the Henry Mancini Orchestra. He also played on several other TV show themes such as "Happy Days," "Laverne & Shirley," "Fantasy Island" and "The Smothers Brothers." Al played on several movie tracks, including "Sometimes a Great Notion" and "Midnight Cowboy."
Al moved back to Nashville, Tennessee in 1970, where he recorded with Capitol, United and RCA Records. He also recorded for Billy Sherrill, producer at Columbis and Epic Records, working with such greats as George Jones, Barbara Mandrell, Del Reeves, Lefty Frizzell, Tammy Wynette, Johnny Paycheck, Lynn Anderson and Sammie Smith.
Back in L.A. in 1973, he continued nightclub work. During this time he recorded Debby Boone's "You Light Up My Life," Suzie Allison's "Looking For Love," and Hank William Jr.'s "Family Tradition" album. In February of that year, he was asked to do a session for a gospel group, the Sky Pilot Singers, which was backed by Elvis Presley. Using two of Elvis's tour, he went on the road with the singers along with the Master's Quartet. They played at several venues across the U.S. ending at Oral Robert University in Tulsa, Oklahoma.
Al was nominated 28 times for Lead Guitar by the Academy of Country Music and won that prestigious honor 10 times, also winning two band awards. He also served on the Board of Directors for the Academy of Country Music for several years.
In 2002 he moved to Las Vegas where he continued his career with several bands there. In 2007, Al released his first CD, titled "Bear Country." He retired from playing in 2008, then in 2013 moved to Florida.