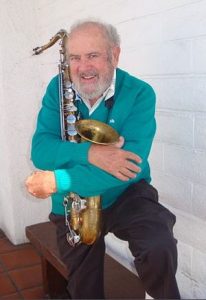 Life Member. Alto/Tenor Saxophone
2/26/1925 – 5/7/2017
He lived to entertain and laugh. He was successful at both. Dave Pell, legend with the saxophone and an innovative voice of the West Coast Jazz movement has passed away at the age of 92.
Dave's first love was music. He began entertaining at the age of 5 singing at weddings and bar mitzvahs during the Depression. He joined the New York City Orchestra playing clarinet at age 13. At 15, he was also gigging with Dizzy Gillespie. They played in a jazz band in Boston. Dave credits Gillespie with giving him the direction to make his solos different each time, and to make them "funny."
He went on to sit in with more than 100 bands including Tommy Dorsey, Tony Pastor, and of course the Les Brown Band.
A natural musician, Dave valued great musicianship above all else. He could listen to a musician and mimic their sound note perfect. A series of his albums featured the sounds of such greats as Benny Goodman, Artie Shaw, and Harry James. Dave greatly admired Lester Young whose sound and phraseology was always in his mind while he played. It was his greatest joy to be willed Lester Young's Dolnet sax. Dave played it as often as he could.
Dave hired John Williams for his first arranging gig for $50 in 1947, when Williams was 15. He collaborated with countless top talent, including Benny Goodman, Henry Mancini, Ella Fitzgerald, Shirley Bassey, Doris Day, Lena Horne, Barbra Streisand, and Anita O'Day.
In the 1950s, Pell started working the big band sound into smaller groups. The best arrangers worked on charts, including: Marty Paich, Shorty Rodgers, Bill Holman, Jerry Fielding, Wes Hensel, John Mandel, John Williams, and Andre Previn. He booked the best of the Les Brown band, including: Don Fagerquist, Ray Sims, Jack Sperling, Tony Rizzi, Ronny Lang, and Rolly Bundock. The small big band sound and The Dave Pell Octet was born. The clean melodic lines formed the cornerstone of West Coast Jazz.
In the 1960s, Dave's ear for great music got the attention of record labels. He produced for Liberty, eventually heading the Liberty, Blue Note, and United Artists labels. He was head of Motown A&R in the early '70s, producing Tom Clay's version of "What the World Needs Now." He produced Sinatra on the Reprise label, Sinatra/Count Basie collaborations, and many others. He produced Vikki Carr's "It Must Be Him" which earned her three Grammy nominations.
He was President of NARAS West Coast twice, in the 1960s and in the 1980s.
He was an innovator of "cover" tunes. He hired some studio players and produced albums featuring Billboard's top hits. Later, as a label exec, he kept the band booked creating music for new acts as well. He tested the limits of union rules and recorded all the rehearsals. Some takes ended up as tracks on albums. This band evolved into the Wrecking Crew.
In the '70s, Dave continued to produce and play. In the late 70's Dave went to Gene Norman of Crescendo Records and pitched the idea of taking Lester Young's solos and harmonizing them with four saxophones.
Bill Holman arranged the homage to Lester Young. Dave's Prez Conference recorded two albums: "Prez Conference with Harry 'Sweets' Edison" and "Prez and Joe," which was nominated for a Grammy in 1980.
In the '80s, Dave began coordinating music for films. Working with Snuffy Garrett, Dave produced soundtracks for several Burt Reynolds and Clint Eastwood movies, including the Grammy-nominated "Sharky's Machine."
Dave always made music. He would book the Octet whenever he could, including his final gig on March 14 of this year. Dave frequently played with Med Flory and a rhythm combo at restaurants or jazz festivals: no sheet music, just two old pros jamming. In the Johnny Vana Big Band Alumni band, Dave found a music family. From the late '90s until just before his passing, Dave played first tenor, still pleasing the crowd and swinging.
Dave's second great love was his dogs. He loved German shepherds and had many over the years. Boots was his favorite dog's name.
Dave enjoyed fast cars and sports. His beloved Corvette adorns one album jacket; another shot at Braemar CC shows him with his golf clubs. He was lifelong fan of the Dodgers and the Lakers. He always watched two TVs so he wouldn't miss any games.
Dave had an easy and big laugh. Everyone knew him for his upbeat energy, quick wit, and his behind the scenes stories that seemed inexhaustible.
He is survived by his daughters, Suzanne and Sandra, stepsons Lee and Michael "Scott," grandchildren Rhea, Justin, Lindsey, Rachel, and great grandkids Ayden and Owen, nieces Amy and Adrian, numerous friends and fans, and Chihuahuas Pusher, Boots, and Angel.
His was a rare life, well lived.