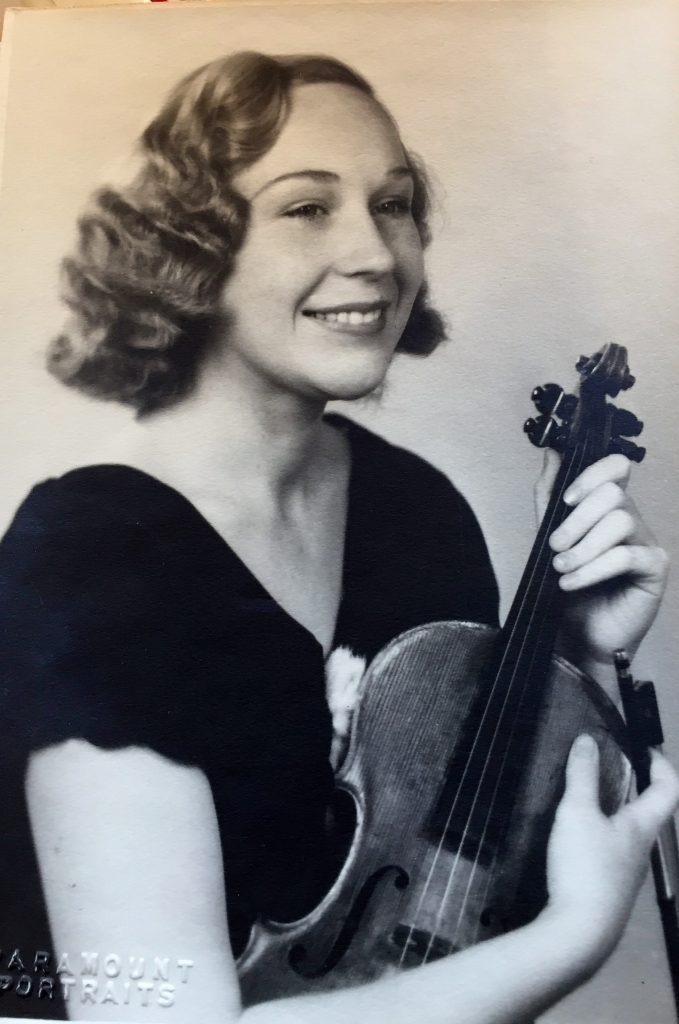 Former Member. Violin
7/26/1918 – 7/12/2017
by Krys Newman
Surrounded by loving friends, Dixie Blackstone Eger, born July 26, 1918, passed away on July 12, 2017, just shy of her 99th birthday.
Born in Globe, Arizona, Dixie was the only child of two musicians. Her mother played the piano and her father, the town music teacher, played violin, among other instruments. Inspired by her father's students, Dixie began violin lessons. As a young person, she won two gold medals for her accomplishments. Her mother took her to audition in San Francisco for Michel Piastro, who claimed she was too young. That led to her father's colleague, Julian Brodetsky. She was accepted! She would study with him for 10 years and become concertmaster of the Brodetsky Chamber Music Ensemble.
When Brodetsky moved to Los Angeles, Dixie and her mother followed. It was here, at age 10, that she met her lifelong best friend Margaret McCaffrey. They graduated together from Hollywood High and in recent years enjoyed sneaking out of their assisted living residence to go on walks in the neighborhood. Margaret passed this year in February.
Dixie was particularly proud of a competition she won at UCLA in 1942. It was adjudicated by Joseph Szigeti and the prize was $100! Jerome Hines was also a winner in that competition. She went on to play with the LA Philharmonic beginning in 1943. She shared the third stand for two years with her childhood friend Irma Neumann, the two blazing a trail for women in symphony orchestras. Irma left to play in the Fox orchestra under Alfred Newman, and Dixie stayed on at the Philharmonic for 11 more years.
At 39 years of age, Dixie married French horn player, Joe Eger. Joe had served as principle horn for the National Symphony, the NY Phil and the LA Phil. They moved to NY where she played in the American Symphony Orchestra under Leopold Stokowski. A better opportunity presented itself with the NYC Opera and Ballet Orchestras, where she served as assistant concertmaster and often filled in as concertmaster. The marriage ended after 12 years, which had included tours with the Eger Players, and Dixie, never a fan of east coast weather, returned to LA. Dixie and Joe remained close until Joe passed away in 2013.
Back in Los Angeles, Eleanor Aller, mother of Leonard Slatkin and wife of Felix Slatkin, invited Dixie to play quartets, which led to Dixie's successful film music recording career. Among the composers she played for were Bernard Herrmann, Franz Waxman, Miklos Rosza, Alfred Newman, David Newman, Randy Newman, Alan Silvestri, and James Horner, to name just a few. Her playing was prominent in many radio and television programs, as well.
Dixie was a treasure in the extended musical Newman family. When David Newman began playing violin in the studios as a young man, he often sat with Dixie on a stand. She would tell him stories about his late father, the composer Alfred Newman, who had passed when he was only 15 years old.
Dixie was proud to play a Giovanni Battista Guadagnini violin, fabricated in 1765, that had a particular flash marking and upon which she made a beautiful sound.
One of her favorites gigs was "Duets" with Frank Sinatra, who Dixie said was "lovely" to all the musicians. She also loved "kibitzing" with Leonard Bernstein at the Hollywood Bowl during intermissions. He was only a month younger than she and they had a group that would gather together backstage.
Dixie's colleagues and friends included Thelma Beach, Irma Neumann, Dorothy Wade, Anne Stockton, Vera Leinsdorf, wife of Erich, the mother of Alan Gilbert and the mother of Marin Alsop, among so many others. These trailblazing musicians made it acceptable to be accomplished, successful and female in the world of gigging musicians in LA.
A lover of travel, as well as documenting her journeys, Dixie also enjoyed tennis, theater, concerts, sewing her own wardrobe and spending time with good friends. She was Internet savvy even in her 90s, and was a fan of the new era of Gustavo Dudamel with the LA Philharmonic.
Dixie Blackstone Eger was kind, charming, generous, easy to laugh, optimistic, stylish and fiercely independent. She was a fine violinist, a fine musician a fine human being and my dear friend.