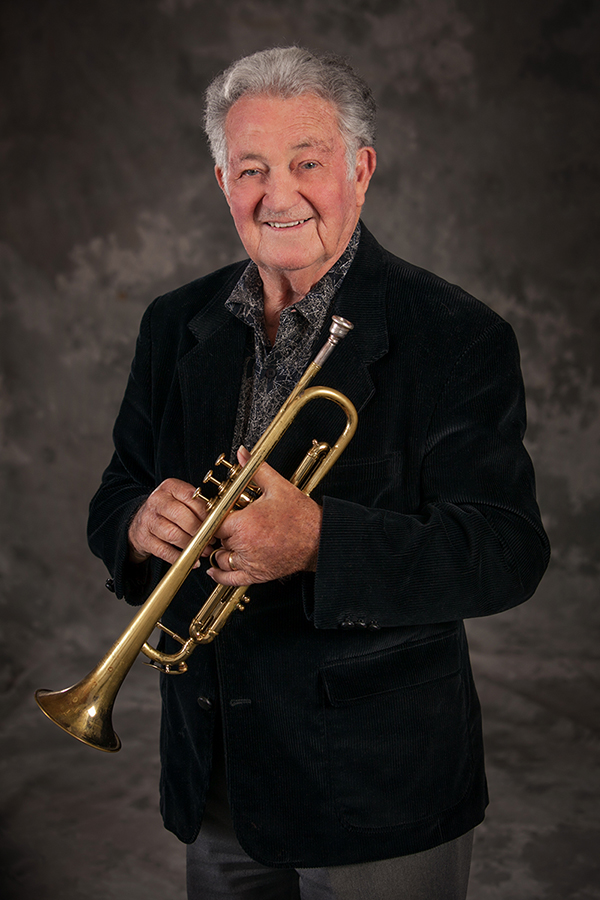 Life Member. Trumpet
6/3/1930 – 2/9/2018
Elmer Hollis Ramsey — trumpet player, conductor, composer, arranger, orchestrator and educator — passed away on February 9, 2018, in Thousand Oaks, CA at age 87.
Hailing from humble beginnings as the ninth and youngest child born on a farm in North Dakota, Ramsey's father played fiddle, his mother was the church organist, and his brothers and sisters sang in harmony. During the Dust Bowl and Depression when Elmer was three his father died, and within a few years his mother moved the family to Washington state. At age 10 he played guitar and organized his friends to form a band, Shorty and His Mountaineers, that won first prize in the Kiwanis talent show. He also began studying the coronet then with his school band teacher, Bernard Butler (his "Mr. Holland"), which helped to fill the void when his mother died when he was 14.
Launching a professional music career at 14 that would span 72 years, by age 17 Elmer had his own '40s style Big Band on radio station KWLK-Longview Washington. By age 19 he played in the Oregon Symphony (formerly the Portland Symphony, the oldest orchestra west of the Mississippi), on radio station KOIN Portland, and toured the West Coast with Mel Torme, Joni James and Kay Starr.
After graduating from the University of Portland and marrying his high school sweetheart Elaine from the choir, Ramsey moved in 1956 to Los Angeles to record with studios such as 20th Century Fox, NBC, Desilu, and Disney, "The King Family Show," and did shows with the Melodyland Theatre featuring Jimmie Durante, Ernie Ford, Nat King Cole, at the Hollywood Bowl with Ferde Grofe, and a variety of classical engagements. He did his graduate work at USC and expanded his conducting experience, including the onscreen orchestra in the 1968 film "Star" with Julie Andrews.
In 1965, Ramsey moved with his family of five children to Thousand Oaks to begin a professorship for music at California Lutheran University that included 18 years of concerts performed at the Dorothy Chandler Pavilion with guest stars such as Florence Henderson, Carol Lawrence, Gordon MacRae, and Roger Williams.
Beginning with founding the Conejo Symphony Orchestra, as resident music director and conductor Elmer brought over 50 years of world-class performances and guest artists to the growing Ventura County. He started the Summer Concerts in the Park series in 1972 in partnership with the City of Thousand Oaks, conducting symphonic pops concerts and expanded to the Oakleaf Music Festival as Artistic Director that ran for 12 years, a summer weekend of symphonic and jazz music. He was instrumental in developing the Thousand Oaks Civic Arts Plaza, one of the largest performing arts centers between Los Angeles and San Francisco, culminating in conducting the Conejo Symphony Orchestra with Daniel Pollack and Shirley Jones when the Civic Arts Plaza opened in 1994. Though Elmer retired as Professor Emeritus from California Lutheran University in 1992, he was decades away from retirement, launching the Conejo Pops Orchestra and holding "Night in Vienna" New Year's Eve concerts for 11 years at the Civic Arts Plaza, comprised of opera favorites, light classics, Strauss waltzes and American music.
Honored in 1993 by ASCAP for over 250 arrangements, 20 compositions and six films by that time, highlights include trumpet pieces like "Trumpets Four" to showcase students who developed into star players in their own right, "Portrait of Thousand Oaks" for the city's 25th anniversary, "Silver Jubilee" for the 25th anniversary of the Conejo Symphony, the score of "A Man Called Luther" screened by the BBC, and composing the "Fight Song" and co-composing the "Alma Mater" of California Lutheran University.
Keeping a hand in the recording world, Ramsey was the conductor of renowned Brazilian guitarist Laurindo Almeida's 1980 album "First Concerto for Guitar & Orchestra," and in 1997 Elmer recorded his own solo trumpet album, "Memories of You," with Lawrence Welk pianist Frank Scott and the Conejo Pops Orchestra Strings.
Returning to his roots in Big Band, Elmer founded Northwest Big Band in Port Townsend, Washington, giving workshops there and for the National Elderhostel Big Band at Hidden Valley Institute for the Performing Arts in the Carmel Highlands. A favorite concert series in Thousand Oaks, "A Valentine Concert: Elmer Ramsey, His Trumpet and Orchestra" and his 44th year as maestro for the Summer Concerts in the Park in 2016 marked his final performances.
"A musician's musician" and "poet of the trumpet," Elmer passed away just one month short of his 67th year of marriage and is survived by Elaine, his five children, seven grandchildren, five great-grandchildren and one great-great-grandchild.