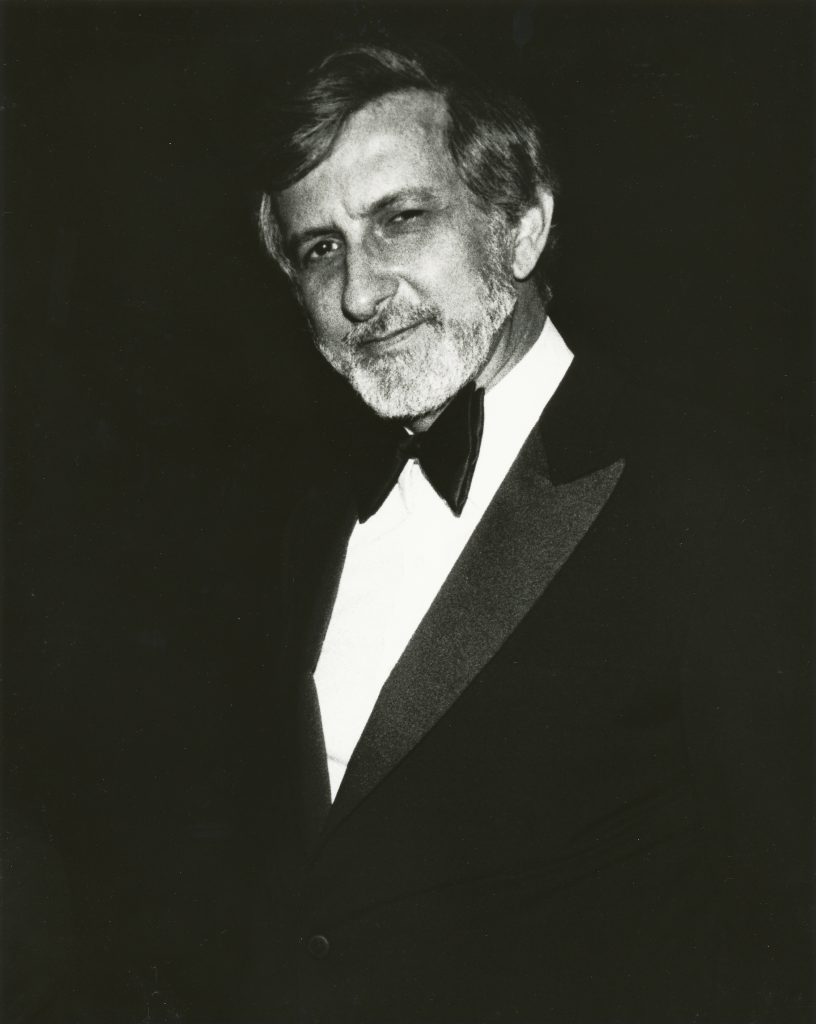 Former Life Member. Drum Set
8/17/1935 – 10/28/2017
Mitchell Peters, a prodigious composer, recording artist, music professor, and former principal timpanist and percussionist with the Los Angeles Philharmonic Orchestra, died in Encinitas Oct. 28, 2017 at the age of 82.
Peters joined the Los Angeles Philharmonic as its co-principal percussionist in 1969 and retired as its principal timpanist in 2006. He performed under such conductors as Zubin Mehta, Carlo-Maria Giulini, André Previn, Esa-Pekka Salonen, Leonard Bernstein, Pierre Boulez, Sir Simon Rattle, John Williams, Michael Tilson Thomas and countless others.
Peters recorded extensively with both the Los Angeles Philharmonic and the Dallas Symphony in addition to various appearances on motion picture and television soundtracks. You may have heard his timpani playing on the opening theme to "ABC World News Tonight," in the movie "2010: The Year We Make Contact," and the original "Battlestar Galactica."
In an effort to aid his students, Peters began writing his own material and eventually started a publishing company specializing in percussion works. As a widely published author and composer, Peters' works and instructional materials remain highly regarded throughout the United States and abroad. His method books transcend generations and musical genres. In an interview, Pearl Jam drummer Matt Cameron stated that his teacher "had me work with these books written by Mitchell Peters — and I'm still using those same snare drum books with my son and his friends."
Peters published over three dozen compositions. Performances of some of his more popular pieces such as "Yellow After The Rain," "Sea Refractions" and "Galactica" can be seen on YouTube. His final composition, "Firefly," was published in 2015 and dedicated to his three grandchildren.
Peters became the applied percussion teacher at California State University Los Angeles shortly after joining the LA Philharmonic and later accepted the position of Professor of Percussion at the University of California, Los Angeles. In addition, he was a faculty member at the Music Academy of the West in Santa Barbara. In May 2012, he retired from teaching.
Mitchell Thomas Peters was born on Aug. 17, 1935 in Redwing, Minnesota. He attended the Eastman School of Music where he earned his bachelor and master's degrees and Performer's Certificate. While at Eastman, he was a member of the original "Marimba Masters" and appeared on the Ed Sullivan and Arthur Godfrey shows. He also made numerous recordings with the Eastman Wind Ensemble.
After graduating Eastman in 1958, he served as timpanist with the 7th U.S. Army Symphony Orchestra. He was stationed in Stuttgart, Germany and traveled throughout Europe to perform.
Upon leaving the Army, Peters joined the Dallas Symphony Orchestra as principal percussionist. The Dallas Symphony was a part-time orchestra which led Mr. Peters to pursue other musical interests such as teaching and composing – both of which became lifelong passions. During this time, he also performed with the Dallas Summer Musicals and at a popular local nightclub.
In addition to his musical accomplishments, Peters was a wonderful and loving father who cared deeply for his family. His survivors include his daughter, Michelle Peters Feinstein (Harley) of Encinitas, California; his son, Mitchell Peters II (Lauren) of Winters, California; two adopted children from his first marriage, Karen Peters of Austin and John Peters of Los Angeles; three grandchildren (Sarah, Andrew and Lucas) and one great grandchild (Callie). He was twice married and divorced.
In a letter to Peters, internationally recognized conductor Frederick Fennell wrote, "I may make music long enough to run into a better percussionist than you, but I doubt it very much."