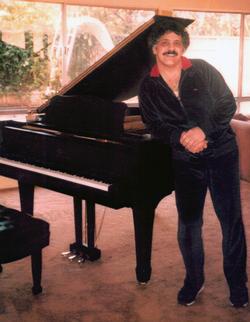 Former Member. Piano
1/28/1947 – 7/3/2017
by Pam Glazer
Victor Bruce Glazer of Delray Beach, FL, died on 7/3/17 at age 70 Born in Philadelphia, PA. He is preceded in death by his parents, Donald and Doris Glazer. Vic is survived by his wife, Pam, his beloved and devoted wife of 38 years, his children – Kenny Charles (Tammy) of Englewood, FL, and Nancy (Jason) Downey of Raymond, NH. He is also survived by his devoted sister, Cindi (Jim) East of Chino, CA. Vic had four adored grandchildren, Kayla Charles, Andrew and Caitlyn Downey, and Amber Van Sickle; and numerous nieces, nephews and cousins. He will be missed by many friends and colleagues in the music industry.
Considered a child prodigy, he was educated at the Juilliard School of Music, Hackettstown High School, and North Texas State University. Following a childhood that included regular appearances on The Children's Hour TV show in Phila. At age 10, and being a three-time winner on the old Arthur Godfrey Talent Scouts show at age 11, Vic went on to North Texas State University where he played with the famed 1 O'Clock Lab Band, and toured Mexico for the U.S. State Dept. with them. Vic enjoyed a long career as an accomplished arranger, composer, pianist and music director for many well-known entertainers, which included long stints as musical director for Debbie Reynolds and Frankie Avalon. He traveled the world for his work, made two appearances at the White House during the '60s, and had numerous TV credits.
Teaching and coaching young talent were also important to him. Vic remained a member of the National Academy of Recording Arts & Sciences until illness forced his retirement in 2014, and had also retired from the American Society of Music Arrangers & Composers. Prior to moving to Florida, Vic volunteered at the Motion Picture Country House & Hospital, providing music for the Alzheimer's patients, among others. More than anything else, Vic loved his family, music, and friends. He will be missed by all who knew him.
Services are pending. In lieu of flowers, the family asks that you consider making a donation in Vic's memory to the Alzheimer's Foundation.