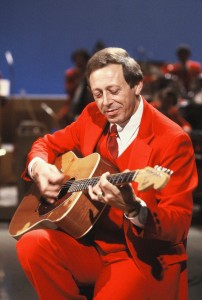 Life Member. Violin
(1932 – 2015)
By Mark LeVang, son
My father, Neil LeVang, the noted studio guitarist whose list of credits includes hundreds of television and film dates as well as a 23-year career with the Lawrence Welk Orchestra, died at home, peacefully in his sleep on Jan. 26. He was 83.
Dad was born in Adams, North Dakota, Jan. 3, 1932. In 1945, his father moved the family to Riverside, California where he attended school and graduated Riverside's Polytechnic High School. At the young age of 15, he was borrowing his dad's fiddle and attending jam sessions with various local bands and at 17 years old, he was playing shows with Foy Willing and the "Riders of the Purple Sage." He became very proficient in jazz and its influence in Western swing music.
He left Riverside for Seattle to enlist in the United States Coast Guard. While in Seattle, he played in various bands and radio show and landed a position with Sheriff Jim "Texas" Lewis, who had a televised children's show. In the mid '50s, he returned to Hollywood and began to focus on a career as a guitarist. He replaced Barney Kessel on Jimmy Wakely's weekly CBS radio show, and earned a spot as a regular in the studios. In '59, he was auditioned to replace Buddy Merrill, who was leaving Lawrence Welk's band to join the Army. Lawrence hired him on the spot. The gig occupied two days each week, giving him ample time to continue expanding his studio efforts, which eventually included work with noted arrangers Neal Hefti, Nelson Riddle, Don Costa, David Rose, Billy May, as well as Hoyt Curtin at the Hanna-Barbera animation studios.
His session work also included Tijuana Brass with Herb Alpert, the Jackson Five, Frank Sinatra, Liberace, Eddie Fisher, Carol Burnett, Frank Zappa ("Freak Out!"), Bobby Darin, Bobbi Gentry, David Clayton Thomas, Elvis Presley, Neil Diamond and countless others. He also worked extensively on television-music sessions including "The Beverly Hillbillies" and the themes for "Green Acres" and "Batman" with Neal Hefti. He accompanied orchestral arrangers including John Williams, Patrick Williams, Marty Paich, Artie Butler, and Henry Mancini, as well as Frank DeVol, who did the themes for "The Brady Bunch" and "Family Affair." Other television-related work included "The Ed Sullivan Show," "The Monkees," "Highway to Heaven," "Little House on the Prairie" and "Petticoat Junction." His list of movie-soundtrack work included "All the President's Men," "At Long Last Love," "Valley of the Dolls," "Dick Tracy," "Good Morning, Vietnam," Disney's "Herbie, the Love Bug" series, "Rosemary's Baby," "Smokey and the Bandit" and the "Godfather" soundtrack.
He is survived by his wife, Nancy LeVang; son Mark and four daughters Coral, Sonja, Erika and Tanya. He left behind 11 grandchildren and seven great-grandchildren.
Dad, the life and love lessons I have learned and continue to learn from you are precious and invaluable. As being the only son of an incredibly driven man in all things life, dedicated to all things music, you inspired me to look outside of my comfort zone and strive for my version of musical success. My road was not yours nor yours mine but somehow, through the blood that flows through my hands, those two roads came together magically and I am acutely aware of your presence in my life now and forever. I thank you for your love.