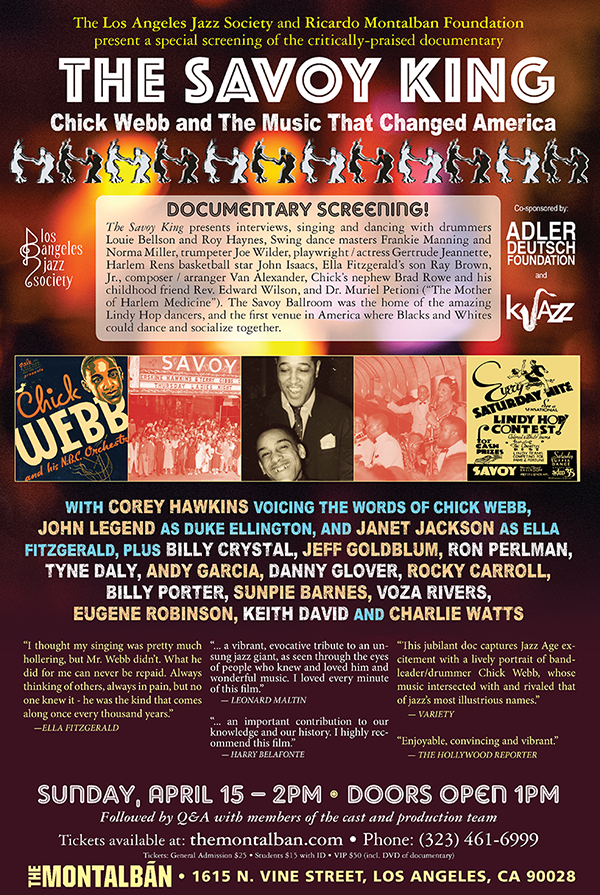 Chick Webb and the Music that Changed America – April 15, 2018 at The Montalban
EXCLUSIVE LOCAL 47 MEMBER DISCOUNT:  Enter the code:  FRIEND
at themontalban.com for 2 for 1 $25 tickets, all to support the LA Jazz Society.
The Los Angeles Jazz Society has joined with the Ricardo Montalban Foundation in presenting the feature documentary "THE SAVOY KING – Chick Webb and the Music that changed America" on Sunday, April 15, 2018, 2 p.m. at The Montalban Theatre in Hollywood. Produced by Jeff Kaufman and Marcia Ross of Floating World Pictures, the documentary details the life of the amazing young drummer and bandleader who impacted the world of big bands in the '30s.
The Savoy Ballroom was the home of the amazing Lindy Hop dancers, and the first venue in America where Blacks and Whites could dance and socialize together. Born fatherless and poor, Chick Webb developed spinal tuberculosis and was a hunchbacked dwarf in constant pain, yet he virtually invented modern drumming and built the hottest Swing orchestra of the 1930s — the "house band" of The Savoy Ballroom. Chick was mentored by Duke Ellington, toured with Louis Armstrong, argued with Jelly Roll Morton, jammed with Artie Shaw, discovered and practically adopted Ella Fitzgerald, beat Benny Goodman (with Gene Krupa) and Count Basie (with Billie Holiday) in legendary battle of the bands, befriended Mario Bauzá ("The Father of Afro-Cuban Jazz"), fired R&B pioneer Louis Jordan for trying to steal away Ella, encouraged a struggling Dizzy Gillespie, and helmed the first Black band to host a national radio show — all before his death at age 30.
This unique documentary is a celebration of jazz and the talented people who have made this extraordinary music their life's passion. Following the premiere, there will be a Q&A with the producers and a jazz-world panel including songstress Barbara Morrison, drummer Roy McCurdy, bandleader swing dancer Jonathan Stout and surprise guests.
Sponsors of the screening include Adler Deutsch Foundation, KJAZZ, and the Jazz Cruise. Proceeds will benefit the jazz programs of the Los Angeles Jazz Society reaching over 20,000 students each year with Jazz in Schools and the Bill Green Mentorship Programs and other projects. Tickets are available at $25 and $50 ($15 for students) from themontalban.com.
For additional questions, please contact the Society office 818.994-4661.