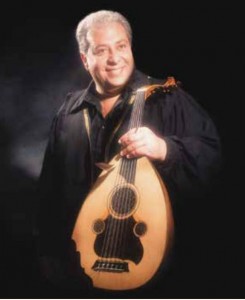 Life Member. Oud
(1948-2015)
By Miamon Miller
I first saw John Bilezikjian perform some 40 years ago and have been fortunate to play with him many times over the past 25 years.  We must have worked at least 100 jobs together, and over that span I never heard him play a wrong note or a note out of time. 
John was a musician's musician.  He was a classically trained violinist and also an excellent mandolinist, but it was the oud that was his musical home, and it was his extraordinary talent with this instrument that brought him such well-deserved fame.
His musical range was incredible. He recorded over 80 scoring sessions including the films "The French Connection," "Mission: Impossible" and "Schindler's List."  He toured for years with singer/songwriter Leonard Cohen and soloed with the Boston Pops in Katchaturian's Sabre Dance and his own arrangements of Rodrigo and Vivaldi.
Of course, John was equally at home in the music of his Armenian heritage having grown up with an extended family of musicians.  However, he also delighted listeners and dancers with music from Greece, Turkey, and the Sephardic Jewish tradition, oftentimes singing in all those languages with a voice that could only be described as hugely musical, mellifluous and above all, honest.
John placed enormous value on personal relationships. In our conversations, he often referred to me as his brother, and although I am sure he extended this fraternal title to other friends, for me it was the ultimate compliment to be included in that inner circle.
For an obituary in the Overture, it's too easy to linger on musical achievements, the sort of checklist of published works that one might find in a resumé.  Of course the true measure of an individual's worth cannot be gauged by their musical genius or the sheer number of well-placed notes that person has played.  At John's funeral service, St. James Armenian Apostolic Church was filled to overflowing with those whose lives he touched not only with his musicality, but with the generosity of his spirit and the warmth of his heart.  He also displayed extraordinary courage and fortitude in dealing with physical illness. For the last several years of his life he underwent dialysis four days per week – yet he continued playing throughout, refusing to be defined or constrained by his infirmities.
We often talked about the violinists we admired as children.  His hero was Jascha Heifetz and he told me more than once that he tried to emulate Heifetz at every turn.  It's no wonder there was never a wrong note.
John is survived by his wife, Helen; his brother, Edward; his two sons, George and John; and numerous grandchildren.  For further information as to how to acknowledge his legacy, please visit johnbilezikjianfoundation.com.