Vince DeRosa tribute album pays homage to the local living legend
words by Linda A. Rapka
photos by Bonnie Perkinson
In homage to one of the greatest brass players of the Hollywood Brass Golden Era, "Hollywood Epic Brass: The Vince DeRosa Tribute Album," an album conceived by Kevin Kaska, debuts this month.
It was from listening recently to a massive number of film scores on which DeRosa played that Kaska hatched the idea for a tribute album. "I wanted to pay tribute to one of the world's greatest brass players still alive," Kaska said. "Many Los Angeles brass players have him to thank for the techniques he has taught."
DeRosa's horn can be heard everywhere, from epic films like "Spartacus," "Dr. Zhivago," "How the West Was Won," and "Patton"; and film musicals like "Oklahoma!," "The Music Man," "My Fair Lady," and "Hello, Dolly!" to Frank Sinatra's famous run of concept albums for Capitol Records and Andy Williams' signature song, "Moon River." As noted by Rick Ginnell in the album liner notes, even in the rock era DeRosa found a place. The soft-focused, haunting horn call at the close of the Monkees' "Shades of Gray" — that was DeRosa, too.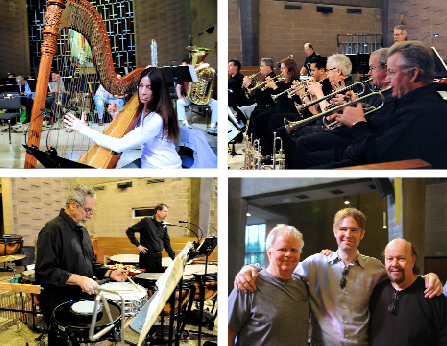 "Vince DeRosa's contribution to American music can't be overstated," says iconic film composer John Williams. "He was the premier first horn player on virtually every recording to come out of Hollywood for over 40 years. He represented the pinnacle of instrumental performance and I can honestly say that what I know about writing for the French horn, I learnedt from him. DeRosa was an inspiration for at least two generations of composers working in Hollywood and beyond."
For the tribute album, Kaska wrote all of the music in addition to composing most of the pieces and arranging three folk songs. "I employed my usual lead players that I've worked with in the past, and then let them choose the personnel to be involved on the album," he said. "It was a grassroots project with no contractor."
The album was recorded last February with a 30-piece ensemble at Glendale Methodist Church. All of the horn players on the album studied privately under DeRosa.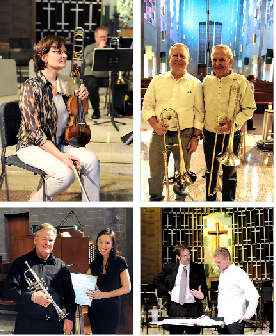 "I have known the great Vince DeRosa for over 40 years," said lead trumpet player Malcolm McNab. "I always knew that he was the greatest hornist in the world and to actually be finally working with him was an honor and thrill beyond words. With an unequaled career in recording that has lasted an amazing eight decades, Vince has been not only the most recorded player on the planet but also THE paragon of his craft. It has been my great pleasure to call him my friend and I feel so blessed to be part of this tribute honoring one of the greatest musicians of all time."
The opening track, "Gloria in Excelsis Deo," was written by Kaska in honor of DeRosa, "simply because I have always thought that Vince's playing was 'glorious,'" he said. "Pillar of Strength" was also inspired by DeRosa. "Vince truly was, and still is, a giant and pillar of strength in the brass world."
"O Shenadoah" was written and dedicated to lead trombonist Bill Booth and violinist Belinda Broughton. "Pillar of Strength" and the medley "Scarborough Fair and the Water is Wide" both feature the Uilleann pipes, aka Irish pipes, as Kaska wanted to feature a different sound on some of the pieces. When he told McNab about his idea to have the Irish pipes used, McNab recommended Eric Rigler, whom he met him on the recording session of Jerry Goldsmith's "City Hall" and who also played the solos on "Braveheart."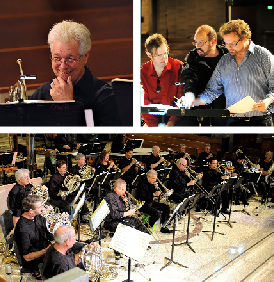 "There are many brass, organ, and percussion ensembles worldwide, and a tremendous amount of music has been written for this instrumentation for the past 300 years," Kaska said. "These groups typically rehearse, and record, in churches because of the importance and necessity of the organ. Because of the instrumentation, these groups tend to be loud and exciting. I want to keep this classical tradition alive!"
Recording here in Los Angeles was of paramount importance to Kaska. "The last time a Los Angeles brass-organ album was recorded was in 1968 with Lester Remsen," he said, "and he recorded many of them at Glendale Methodist. The recording climate has significantly changed over the years, and the competition overseas is fierce. We need to re-invigorate the excitement of recording scores here in L.A. We are going to keep this genre alive and show the musical community around the world the level of playing, passion, precision, and quality that the Los Angeles brass and percussion community can offer."
The album includes a 70-page booklet that contains DeRosa's bio, extensive the liner notes written by Rick Ginnell, as well as bios on the 30 musicians involved. It will be available for sale on Amazon starting in mid-August.
Hollywood Epic Brass Organ and Percussion Ensemble
Trumpets
Malcolm McNab, principal
Barry Perkins, associate principal
Jon Lewis
Marissa Benedict
Dave Washburn
Jim Grinta
Mike Davis
Horns
Brian O'Connor, principal
Nathan Campbell, associate principal
Joseph Meyer
Danielle Ondarza
Steven Becknell
Todd Miller
Trombones
Bill Booth, principal
Andy Malloy
Al Veeh
Alex Iles
Craig Gosnell
Phil Teele
Tuba
Doug Tornquist
Dave Holben
Timpani
Greg Goodall
Percussion
Alan Estes
Steve Schaeffer
Don Williams
Ted Atkatz
Uilleann Pipes
Eric Rigler
Violin
Belinda Broughton
Harp
Maria Casale
Organ
Jaebon Hwang
Conductor
Kevin Kaska
Producer
Michael Valerio
Gary Grant
Associate Producer
Dr. Ladd Thomas
Executive Producer
Kevin Kaska
Engineers
Allen Sides
Rouble Kapoor
Mixers
Allen Sides
Music Editor
Jimmy Hoyson
Mastering
Doug Sax