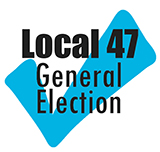 For the first time in recent history, all candidates who submitted nominating petitions for the 2016 Local 47 General Election were unopposed. In accordance with Article IX, Section 1 of the AFM Local 47 Bylaws, the Election Board declares that all of the following candidates, running on the slate of John Acosta, are hereby elected by acclamation*:
President (1): John Acosta
Vice President (1): Rick Baptist
Secretary/Treasurer (1): Gary Lasley
Trustees (3): Judy Chilnick, Dylan Hart, Bonnie Janofsky
Directors (6): Pam Gates, John Lofton, Andy Malloy, Phil O'Connor, Bill Reichenbach, Vivian Wolf
Hearing Board (7): Alan Estes, Jon Kurnick, Jeff Lass, Norman Ludwin, Helen Nightengale, Allen Savedoff, Marc Sazer
Delegates to the AFM Convention** (3): Pam Gates, Bonnie Janofsky, Norman Ludwin
First Alternate Delegate (1): Phil O'Connor
Second Alternate Delegate (1): Vivian Wolf
Congratulations to all of these candidates, and thank you for your willingness to serve the membership of our Union!
Election Board: Mark Zimoski (chair, mzimos@gmail.com, 818-997-7225), Marie Matson, Paul Sternhagen, Stephen Green, Scott Higgins, Nick Stone, Kris Mettala
---
* Per AFM Local 47 Bylaw Article IX, Section 1, in the event that all candidates should be unopposed in a General Election, the Election Board shall declare those candidates elected by acclamation, and no balloting shall take place.
**At present, Local 47 is entitled to six Delegates to the AFM Convention. Our titled officers automatically fill three Delegate positions. The remaining three Delegate positions are determined by the General Election.