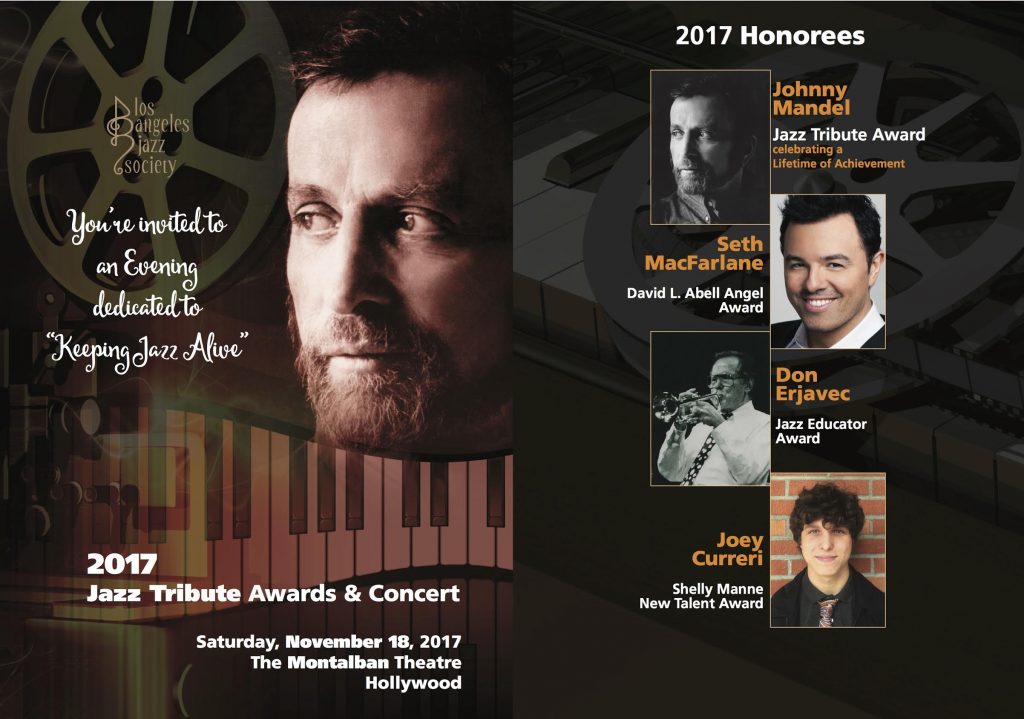 This year's Los Angeles Jazz Society Jazz Tribute Awards Concert takes place Saturday, Nov. 18, at the Montalban in Hollywood.
The 2017 awards program will honor Local 47 Life Member Johnny Mandel for his multitude of musical achievements. His Grammy and Oscar winning work spans the big band era (Woody Herman and Count Basie), the first jazz score for a motion picture — "I Want to Live" in 1958, composing and arranging for Sinatra, Barbra Streisand, Michael Jackson and Natalie Cole, among many others, and his legendary movie scores including such songs as "Emily," "The Shadow of Your Smile" and the theme from "M*A*S*H."
The David L. Abell 'Angel' Award goes to the multi talented actor/composer/performer/producer, Local 47 Honorary Member Seth MacFarlane in recognition of his commitment to live music and musicians, plus his generous support of philanthropic causes. He has created some of the most popular content on television and film today – FAMILY GUY, AMERICAN DAD, and ORVILLE, plus Ted, A Million Ways to Die in the West and Logan Lucky, while also expanding his career in the worlds of music, literature and philanthropy – from his concern for climate change to Reading Rainbow and the Human rights Campaign.
The Jazz Society will also present the Jazz Educator Award to Local 47 Life Member Don Erjavec, a pioneer of jazz education and mentoring in the greater Los Angeles area; and our Shelly Manne Memorial New Talent Award to Joey Curreri, a multi talented young pianist and trumpeter.
The annual Los Angeles Jazz Society's Jazz Tribute Awards Concert attracts jazz musicians and jazz lovers from all over Southern California in a celebration of jazz and the talented people who have made this extraordinary music their life's passion. The event raises funds for important jazz education programs, benefiting 25,000+ young people in the LAUSD public schools and our other programs each year.
For concert tickets ($40-$150) visit themontalban.com. For VIP tickets ($250 – includes VIP reception with honorees) and advertising, call the Society office at 818.994-4661.