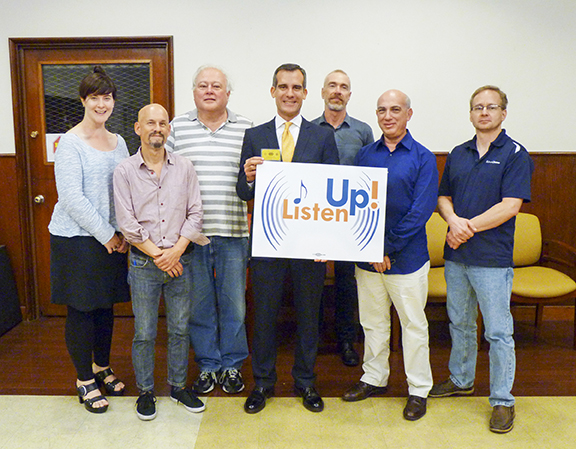 Los Angeles mayor joins American Federation of Musicians in calling on film production companies to end their practice of offshoring film scoring jobs
FOR IMMEDIATE RELEASE
June 11, 2014
Press contact:
Linda A. Rapka 323.993.3162
linda.rapka@promusic47.org
LOS ANGELES, California (June 11, 2014) — Los Angeles Mayor Eric Garcetti announced today his support for the American Federation of Musicians' Listen Up! Campaign, which calls upon film production companies that benefit from taxpayer-funded film credits to score their films in the United States.
"I'm fighting for good paying middle-class jobs across California, and our work to pass legislation – which will boost production and music scoring – must be with that goal in mind," said Mayor Eric Garcetti.
Halting the bleed of film and television production jobs out of California has been a top priority for Mayor Garcetti. Alongside the musicians union and other entertainment guilds, Garcetti has taken a leading role in advocating for the passage of AB 1839, the bill that would enhance the state's Film and Television Tax Credit Program and provide a bump in the incentive for film soundtrack scoring in California.
Last month AFM Local 47, the Hollywood chapter of the musicians union, hosted a ceremony naming Garcetti an Honorary Member of the musicians union in appreciation of his efforts to stem runaway production from Hollywood and for his support of Los Angeles musicians. "Himself an accomplished pianist and composer, Mayor Garcetti truly understands the issues and concerns of professional musicians," said musician Andy Malloy. "We commend him for standing with us in our efforts to stop the offshoring of film scoring work and keep music jobs in the United States."
PHOTOS AVAILABLE UPON REQUEST
The Listen Up! campaign is an initiative of the American Federation of Musicians of the United States and Canada, the AFL-CIO, and community members who support dignity and justice for professional musicians. For more information, visit www.listenupnow.org.
###