Lisa Gass: Master Bass Crafter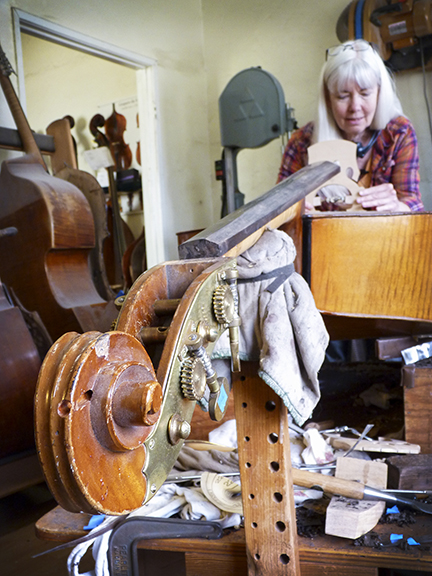 Pasadena Symphony Orchestra member Lisa Gass not only knows how to play the bass – she knows how to build one.

The founding owner of Los Angeles Bass Works since 1984, Lisa showed an early aptitude for wood sculpture as a child after she received woodworking tools as a birthday gift. By age 13, having toyed around with piano and violin, she decided her true love was the string bass.
After graduating from Kutztown State University in Pennsylvania in 1976, she played bass as a freelance musician while also working in the archeology department of a historical restoration firm, recovering and cataloguing precious colonial-era artifacts. This love of preservation began to mix with her devotion to the bass, leading to internships in repair. She received her degree of luthier in 1984 and soon moved to the Los Angeles area, where she established and managed the bass department at Metzler Violins for the next 13 years before opening her own shop in 1997. Today Lisa is known as one of the premiere string bass crafters on the west coast.
"It's a nice combo, fixing them and playing them," she says of her beloved instrument. "Bass players are good people to hang out with. They're very mellow."
Lisa has worked on the basses of many prominent musicians, including jazz legends Charlie Haden and Ray Brown, and members of the Los Angeles Philharmonic. Her hands have worked on basses more than 300 years old.
"Sometimes I'll see incredible old repairs where you think, 'How did they do it?' It's kind of like archaeology sometimes when you open them up. On some, various repair people will put in their repair label. When I have a bass like that, sometimes I'll put mine in there too. It's cool to see when things were done, where it was at that time. It's like looking back in time."
Describing her favorite part of the job, she offers with a smile: "Just to make it better for the player."
(Photos: Kori Chappell. Interview: Linda A. Rapka)