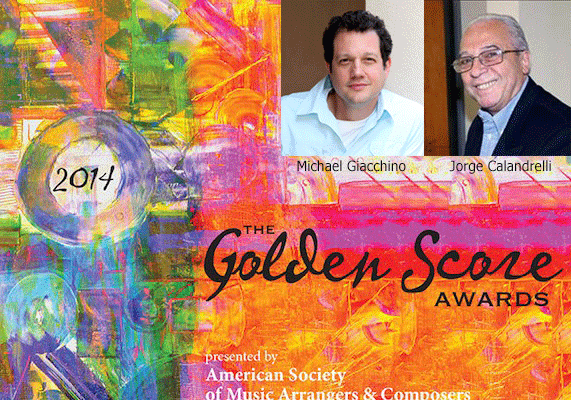 American Society of Music Arrangers and Composers and the Composers & Arrangers Foundation will celebrate the musical artistry of two Local 47 stars
by Tatiana Arias
The American Society of Music Arrangers and Composers (ASMAC) and Composers & Arrangers Foundation of America (CAFA) will honor award-winning film and television composer Michael Giacchino and arranger, composer, and producer Jorge Calandrelli at the 2014 Golden Score Awards.
"Both men are world renowned in their respective fields and we are excited to have this opportunity to recognize their achievements this year," said ASMAC President Chris Walden.
The annual awards ceremony will be held Sept. 28 in the Ahmanson Ballroom at the Skirball Cultural Center in Los Angeles.
In the mid-1990s, Giacchino began composing for Disney Interactive, and by 2001 he was composing for television and film simultaneously. His credits include TV series "Lost," "Alias" and "Fringe"; video game series "Medal of Honor" and "Call of Duty"; and feature films such as "Mission: Impossible III," "The Incredibles," "Star Trek," "Star Trek Into Darkness," "Cloverfield, "Ratatouille," "Super 8," "Cars 2" and "John Carter," plus the current "Dawn of the Planet of the Apes." Throughout his career Giacchino has received numerous awards and nominations for his work, including an Oscar, two Grammys, a Golden Globe, and a BAFTA.
Calandrelli has a lifetime of accomplishments and awards through his work arranging, composing, conducting and producing for individual artists including Tony Bennett, Barbra Streisand, Celine Dion, Michael Bublé, Yo-Yo Ma and Plácido Domingo, to name a few. His arranging and composing credits run the gamut from television and film to his sought-after concerto for jazz clarinet and orchestra, for which he received the Wavedon Award. Calandrelli has received a multitude of awards for his albums and performances; to date he has garnered 27 Grammy nominations, six Grammy wins, and two Oscar nominations, among other prestigious awards.
For 76 years, ASMAC has sought to preserve a tradition of excellence among composers, arrangers and musicians, in general, encouraging younger musicians to achieve their goals through workshops, mentoring, and scholarship programs. Proceeds from the Golden Score Awards benefit ASMAC's educational programs, master classes, archival projects, and scholarship programs in composition and arranging.
The gala evening will begin at 5 p.m. with cocktails and a silent auction, followed by a gourmet dinner at 6:30 p.m. and the awards presentation and program. A few surprises are promised. For additional information, sponsorship/tribute journal advertising opportunities, and ticket sales, please call (818) 994-4661 or email scherr@asmac.org.