[slideshow_deploy id='4645']
Local 47 musicians & union members joined hundreds of thousands at the 2018 Women's March Los Angeles.
Activists converged on downtown the morning of Jan. 20 marching from Pershing Square to City Hall as part of the second annual Women's March, the largest of dozens of similar protests held around the nation.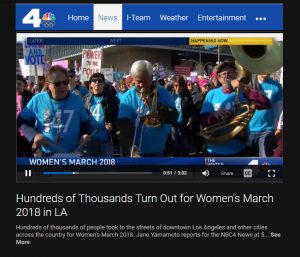 The message of the #metoo movement was at the forefront, with many demonstrators waving signs calling for the end of sexual violence and assault.
Among other issues raised were equal rights for women and an end to attacks on reproductive rights, LGBTQIA rights, workers' rights, civil rights, disability rights, immigrant rights, Indigenous people's rights, and environmental justice.
AFM Local 47 led the entertainment union contingent, with musicians marching alongside members of Writers Guild of America, SAG-AFTRA, and the Directors Guild. Labor representing at the Women's March comes at a time when unions throughout the nation are working to more closely scrutinize workplace conditions and "industry norms," and taking steps to improve conditions for all working people.
At City Hall, celebrity speakers addressed the crowd, including actresses Viola Davis, Scarlett Johansson, Natalie Portman and Laverne Cox. In her impassioned speech, Davis reminded women that they must fight for their liberties and rights.
"I am speaking today, not just for the #metoos, because I was a #metoo, but when I raise my hand, I am aware of all the women who are still in silence," Davis said. "The women who are faceless. The women who don't have the money, and who don't have the constitution, and who don't have the confidence, and who don't have the images in our media that gives them a sense of self-worth enough to break their silence that's rooted in the shame of assault. That's rooted in the stigma of assault."
Davis concluded by saying that until we're all free, none of us are.
"As we live on earth, we've got to bring up everyone with us," she said.
She finished by saying her hope for the future is that we "never go back," and reminding the crowd that marching isn't enough — that we all must "keep it rolling" when we go home.
Watch her full speech here:
[embedyt] http://www.youtube.com/watch?v=mM5ONxQxQu8[/embedyt]