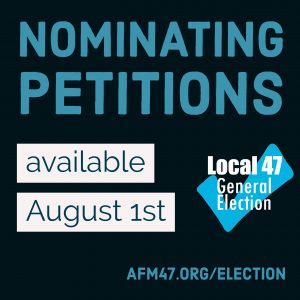 The next AFM Local 47 General Election takes place Tuesday, Dec. 11, 2018.
Nominating petitions will be available from the Secretary/Treasurer's office as of Wednesday, Aug. 1, 2018.
All completed nominating petitions must be delivered to the Secretary's Office, in exchange for a signed and dated receipt, no later than Friday, Sept. 14, 2018.
The Local 47 Election Board reminds potential candidates to review Article IX of the Bylaws by logging into your member account here, using the blue menu to select "Members-Only Scales & Documents" and going to "Local 47 Bylaws" in the rightmost column. Members may also request a printed copy from the Secretary's Office.
For more information please visit afm47.org/election.