by Linda A. Rapka
From newsletter to magazine to newspaper — and soon to be digital electronic publication and print quarterly color magazine — the publication has undergone quite a few transformations since its inception. By venturing down into the Local 47 archives, we can take a journey back in time to discover how the Overture began all those years ago.
The earliest issue in Local 47's archives dates back to January 1925, when it was printed as a plain 16-page, black-and-white, bi-weekly newsletter. In April 1925, the front cover took on a magazine-like look, featuring a hand-drawn sketch of beautiful musical muses. Three months later, the front page image was changed to another version of the muses, and remained the same on the cover of every issue for the next seven years.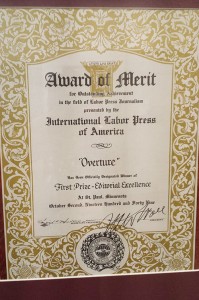 Other than switching over to a monthly publication, Overture underwent only minor modifications during the 1930s and early '40s. It spiced up its image in March 1946 by introducing color to its front, back and inside pages. Fully utilizing this color, the magazine featured gorgeous hand-drawn illustrations and full-page photographs on every cover throughout the next decade.
In 1956, the publication transformed once again, this time into a black-and-white newspaper. As part of a major redesign in 1967, Overture soon began featuring spot-color on the front, back and center pages. In early 1975 the flag was redesigned, appearing as the first incarnation of the image used at the top of the front page of this very issue. Over the next four decades, Overture updated its style guidelines countless times (including a comparatively major overhaul in May of 2006 by yours truly).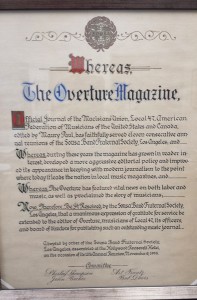 Throughout the paper's long legacy, the publication has been widely recognized for its journalistic achievements. In addition to the dozens of awards in recent years from the International Labor Communications Association adorning the walls of the Overture office today, we discovered a few historical accolades from its past: a 1949 First Prize in Editorial Excellence from the International Labor Press of America, and a 1955 proclamation from the Sousa Band Fraternal Society drafted in gratitude of Local 47 for publishing an "outstanding music journal" (both now also hanging on our walls).
As this publication's managing editor for the past nine years, I am excited to take part as Local 47 introduces Overture to the next phase of its dynamic legacy. In transitioning to an online magazine and also to a full-color print quarterly in 2015, we add yet another layer to the many faces the official publication of Local 47 has taken on throughout the years. With our new and changing formats, there remains one constant: We will continue to strive to offer you the highest-quality content possible. Happy reading!