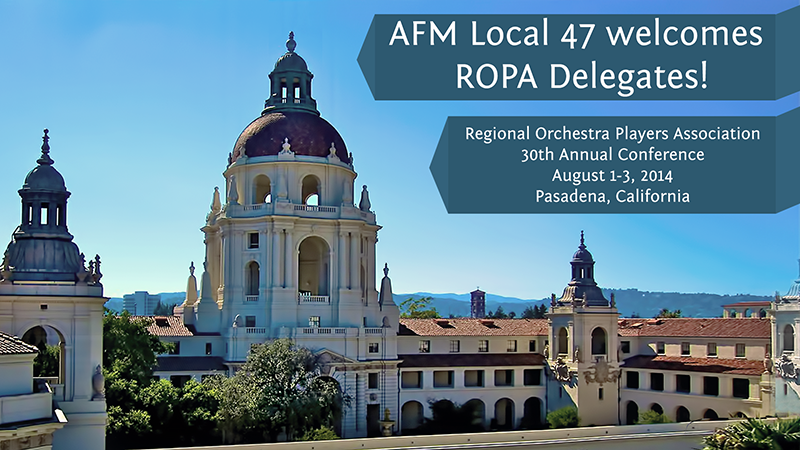 FOR IMMEDIATE RELEASE
PASADENA, CA (July 31, 2014) — The American Federation of Musicians Local 47 is proud to host the 30th annual conference of the Regional Orchestra Players' Association (ROPA).
Each year, regional orchestra musicians from throughout the United States gather each year in a unique host city for an annual conference. A representative organization within the American Federation of Musicians, ROPA pursues activities conducive to the general welfare and artistic well-being of member orchestras and their musicians, and serves to enhance communications among those orchestras and with the AFM and individual Locals. Local 47 ROPA member orchestras include the California Philharmonic, Hollywood Bowl Orchestra, Los Angeles Opera Orchestra, New West Symphony, and Pasadena Symphony and POPS.
The opening ceremony for the 30th annual ROPA conference takes place Friday, Aug. 1, at the Pasadena Central Library. Guest speakers include U.S. Representative Judy Chu (D-CA, 27th District), Los Angeles County Federation of Labor Executive Secretary-Treasurer Maria Elena Durazo, and Los Angeles Alliance for a New Economy (LAANE) Deputy Director James Elmendorf. Continue reading →