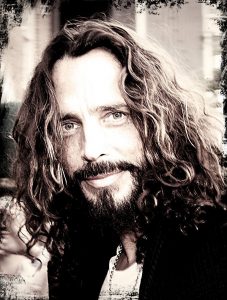 Vocalist
7/20/1964 – 5/17/2017
Chris Cornell, the powerful, dynamic singer whose band Soundgarden was one of the architects of grunge music, died on May 17 in Detroit hours after the band performed in concert. He was 52. His death was ruled suicide.
Cornell was a modern innovator who transcends genre. He was the chief architect of the '90s grunge movement and remains one of the best rock voices of all time. Achieving multi-platinum success with three legendary bands – selling over 30 million records worldwide – he forged his own unique identity over three decades as a Grammy award-winning, Golden Globe nominated singer, songwriter, guitarist, composer and lyricist.
His career began with Seattle trailblazers Soundgarden, whose wild soundscapes combined visceral punk attitude with artistic depth. Powerfully original, they were the first of their generation of Seattle bands to sign to a major label in 1989 and their work continued to evolve over the course of seven groundbreaking albums. Soundgarden made a historic return to the live stage in 2010 and have since toured the world, releasing the all-new studio album, "King Animal," to widespread acclaim.
Cornell continually redefined his sound and vision. In 1990, side project Temple of the Dog saw him experiment with a more soulful style alongside the future members of Pearl Jam. Later in the decade, his critically acclaimed solo album "Euphoria Morning" combined lush melody and instrumentation with lyrics which spoke of alienation and despair. And as the millennium turned, he joined with three other musical pioneers from Rage Against the Machine to create supergroup Audioslave. The multi-platinum band released three albums and toured stadiums around the world, becoming the first American rock group to perform a massive free concert in Castro's Cuba. Cornell has also collaborated with many different artists, most recently the Zac Brown Band on their single "Heavy is the Head", which peaked at #1 on rock radio in the US.
Cornell's recent solo acoustic "Songbook" tour attracted sellout crowds and critical acclaim worldwide. Jim Farber of the New York Daily News observed, "sometimes you don't recognize the full power of a voice until you strip everything away from it." The tour's reinterpretations of classic Cornell songs are featured on his 2011 live album of the same name.
Cornell was also involved in philanthropy, using music to support causes that help foster change. The Chris and Vicky Cornell Foundation is currently raising funds and partnering with charitable organizations to mobilize support for children facing tough challenges, including homelessness, poverty, abuse and neglect.
"Higher Truth," his fifth solo album, which reflects an expressive intimacy similar to that of "Songbook," while also displaying his evolution and growth as a master craftsman songwriter.
Chris is survived by his wife and two children.

Thinking about Suicide? Call us now:
1-800-273-8255
We are available 24 hours a day, every day.
Help is Here
Nobody who has not previously been suicidal can fully imagine the pain you are experiencing right now. You are trying to maintain your outer life as you think it should be lived and seen, but secretly you may be trying to figure out how to end your life prematurely, whether gracefully or not. The surges of deep agony you are experiencing may often become unbearable.
You are not alone.
Thousands of people have had feelings like yours. Although some of those people are no longer with us because they succumbed to desperation, many others have found ways to cope with such previously unmanageable feelings — and they have created useful, successful, and happier lives out of what could have ended in tragedy.
What did these people do? THEY GOT HELP. They talked to counselors or doctors or pastors or parents or trusted friends. Some received help from taking prescribed medicines that alleviate feelings of depression, anxiety, and desperation. These medicines allowed them to get a new grip.
At this very moment you can GET SOME HELP if you have access to a telephone. If you live in northern Illinois, you can call the Suicide Prevention Servives Depression Hotline at (630) 482-9696. If you live elsewhere in the United States, you can call the National Crisis Help Line at 1-800-784-2433 or the National Suicide Prevention Lifeline at 1-800-273-8255.
Your inner pain can become less troublesome if you get help. Very likely these impulses will go away completely after a period of healing. You have much ahead of you, and right now a concerned person is ready to help you on the phone. Just call.
1-800-273-8255
We are available 24 hours a day, every day.