Los Angeles Alliance for a New Economy honored SAG-AFTRA President Gabrielle Carteris and Mayor Eric Garcetti's Chief of Staff, Ana Guerrero, at the annual Women for a New Los Angeles luncheon on May 12, 2017.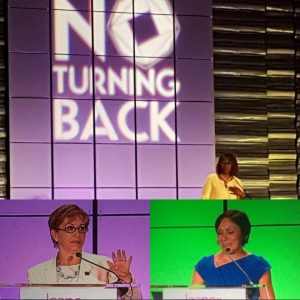 This year's event, "No Turning Back," drew hundreds of labor union officials, local legislators, and other dignitaries to the JW Marriott at LA LIVE. Two-time Grammy-winning group Mariachi Divas delivered a lively musical performance. California State Senator Holly J. Mitchell served as keynote speaker.
LAANE's mission is to build a new economy based on good jobs, thriving communities and a healthy environment for everyone. Here in L.A., and in cities across the country, we are creating the foundation for a new green economy, from groundbreaking living wage laws to leading-edge green jobs initiatives.
Founded in 1993, LAANE is recognized as a national leader in the effort to address the challenges of working poverty, inadequate health care and polluted communities. Combining a vision of social justice with a practical approach to social change, LAANE has helped set in motion a broad movement to transform conditions in Los Angeles and beyond.