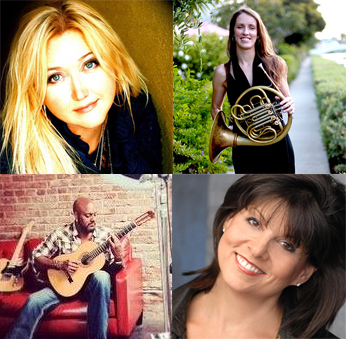 Promoting Live Musicians in Los Angeles with Christy Crowl
Monday, March 9
7-9 p.m.
Local 47 Serena Kay & Earl Williams Auditorium

The latest installment of our Referral Service Meet & Greet series will feature guest speaker Christy Crowl, a musical director, conductor, keyboard player, singer, and music collaborator.
An artist with the Grammy-winning group Mannheim Steamroller, Christy tours across the United States and Canada performing over 50 live concerts a year. In the past several years, she has been the musical director and conductor of the first symphonic concerts at the new Wallis Annenberg Center for the Performing Arts in Beverly Hills, the first woman conductor of the hit musical "Wicked," an invited member to the prestigious Quincy Jones Musiq Consortium, and is part of the music team developing live shows for a major Los Angeles entertainment company. Christy is also founder and project director of ProMusicDB: The Professional Music Credits Database, which has engaged the professional music community, retail community, and the music education and library communities in discussions on how to collectively preserve professional musician's legacy with intelligent technology in the digital landscape. 
Additional panelists include:
Tariqh Akoni (Music Director, Josh Groban)
Since moving to Los Angeles in 1997, Tariqh has amassed an extensive and eclectic resume. He has worked with such distinguished artists as: country singers LeAnn Rimes and Lee Ann Womack; jazz icons George Duke, Tom Scott, and Bobby Watson; pop artists Jennifer Lopez, Whitney Houston, Christina Aguilera and the Backstreet Boys; and classical artist Josh Groban.
Emily Reppun (Contractor, Golden State Pops Orchestra)
Emily holds tenured positions with the Golden State Pops Orchestra and Orchestra Santa Monica. She has appeared on national television with Rickey Minor, Christina Aguilera, Rihanna and Kanye West, episodes of "Chuck," and "The Voice," and in the United Airlines commercial "Onboard with 'Rhapsody in Blue'." In addition to performing, Emily serves as the personnel manager for the Golden State Pops Orchestra, and also provides contracting services for the Orchestra Santa Monica, Opera San Luis Obispo, and a variety of other performances, casuals, recording and sidelining sessions.
Nancy Gassner-Clayton (Clayton Music Management)
Nancy Gassner-Clayton's company, Clayton Music Management, specializes in connecting real Musicians & Bands with casting directors and various production companies searching for musical talent for on camera, live, and recording projects. Clients span the musical genres from new indie artists, to celebrity musicians,and high profile studio musicians such as members of the Grammy winning Gordon Goodwin's Big Phat Band.

The Meet & Greet is free and open to all members of Local 47, regardless of whether you are enrolled in the Referral Service. Refreshments will be provided, and you will have a chance to win door prizes. Come mix and mingle and learn what the Referral Service is all about!
While this event is free, your reservation is required by Friday, March 6. Click here to RSVP by email or call 323.993.3172.