Close to 300 musicians, dignitaries and friends turned out on the evening of May 21, 2018 for the official Grand Opening Dedication Ceremony to commemorate the new home of American Federation of Musicians Local 47 at 3220 Winona Ave. in Burbank.
This past summer, our union began our relocation from Hollywood to a beautifully renovated building in Burbank. With Phase 1 of construction recently completed, we were ready to celebrate in style!
Guests filtered in to a giant tent set up on the parking lot in front of the main entrance of the new building. Students from the Burbank Unified High School Marching Band kicked things off with a rousing drumline. Among the many VIPs in attendance were the building's architect, John Cambianica of CBA Architects, and general contractor, Mike McCormick of McCormick Construction, and representatives from labor unions and organizations including SAG-AFTRA, Film Musicians Secondary Markets Fund, Musicians At Play, The Actors Fund, AFM Local 6 San Francisco, NABET-CWA Local 53, Los Angeles Chamber Orchestra, California Jazz Foundation, Los Angeles Jazz Society, Formosa Group, Burbank Cultural Arts Commission, Los Angeles Community College District, and many more.
AFM Local 47 President John Acosta and Vice President Rick Baptist served as masters of ceremony. "As we begin a new chapter here in Burbank, we will continue to advocate for professional musicians," Acosta said. "Whether it be for film and television tax incentives to bring jobs back to the state of California, to advocate for more funding for our orchestras through the National Endowment of the Arts, or for fair pay for musicians performing in nightclubs, Local 47 will continue to be the voice of the professional musician in our new home for many, many years to come."
The impressive lineup of special guest speakers included:
Gema Sanchez, President, Burbank Chamber of Commerce; and several Chamber Ambassadors for the official Ribbon Cutting
Emily Gabel-Luddy, Mayor, City of Burbank
Jason Maruca, office of Los Angeles County Supervisor Kathryn Barger, 5th District
Pamela Marcello, District Representative for Congressman Adam Schiff, 28th District
Victoria Dochoghlian, Field Representative for Assemblymember Laura Friedman, 43rd District
Arda Tchakian, District Representative for Senator Anthony J. Portantino, 25th District
Jay Blumenthal, Secretary/Treasurer, American Federation of Musicians of the United States & Canada
Serena Kay Williams, Secretary/Treasurer Emeritus, AFM Local 47
During the ceremony, the three titled officers unveiled a bronze plaque dedicating the building to "our talented membership and hard-working staff who stand committed to the advancement of music and musicians."
No party at AFM Local 47 would be complete without live music, and guests were treated to a quartet comprising members of the Los Angeles Philharmonic, and Mike Barone closed out the evening with a rousing set from his award-winning Big Band, featuring smoking hot tenor sax from Rickey Woodard as special guest soloist.
Guests enjoyed guided tours of the 25,000-square-foot building with guided tours of the new AFM Local 47 financial offices, state-of-the-art rehearsal rooms, recording studio, and impressive Artists' Lounge.
Currently in the planning stages, Phase 2 construction on our new multi-purpose space will serve as an auditorium and hall for membership meetings, large orchestra rehearsals, live performances, and rentals.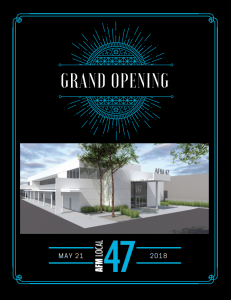 All attendees received a special commemorative program book as part of the festivities. A digital copy may be viewed here and in our Overture App library. Members may request a complimentary copy by sending an email to press@afm47.org. (Books are available on a first-come, first-served basis.)
View more photos from the event here.