Making Music and Making Progress: Strengthening our Union and the Music Industry's Journey to Racial and Gender Justice
Friday, December 11, 2020
1 p.m. PST / 4 p.m. EST
Click Here to Register
---
AFM Local 47 (Los Angeles) and AFM Local 802 (New York) are proud to co-host the webinar panel discussion "Making Music and Making Progress: Strengthening our Union and the Music Industry's Journey to Racial and Gender Justice." Please join esteemed artists/Union leaders to discuss our community's journey to advance equity and justice. Our topics include:
Identifying the structural barriers facing under-represented groups in our field.
Elevating strategies and commitments to overcome exclusion and promote justice.
Brainstorming innovations in our Union and our industry to address systemic injustices.
This panel discussion is free and open to the public.
Zoom Registration Link: bit.ly/afm-dei-2020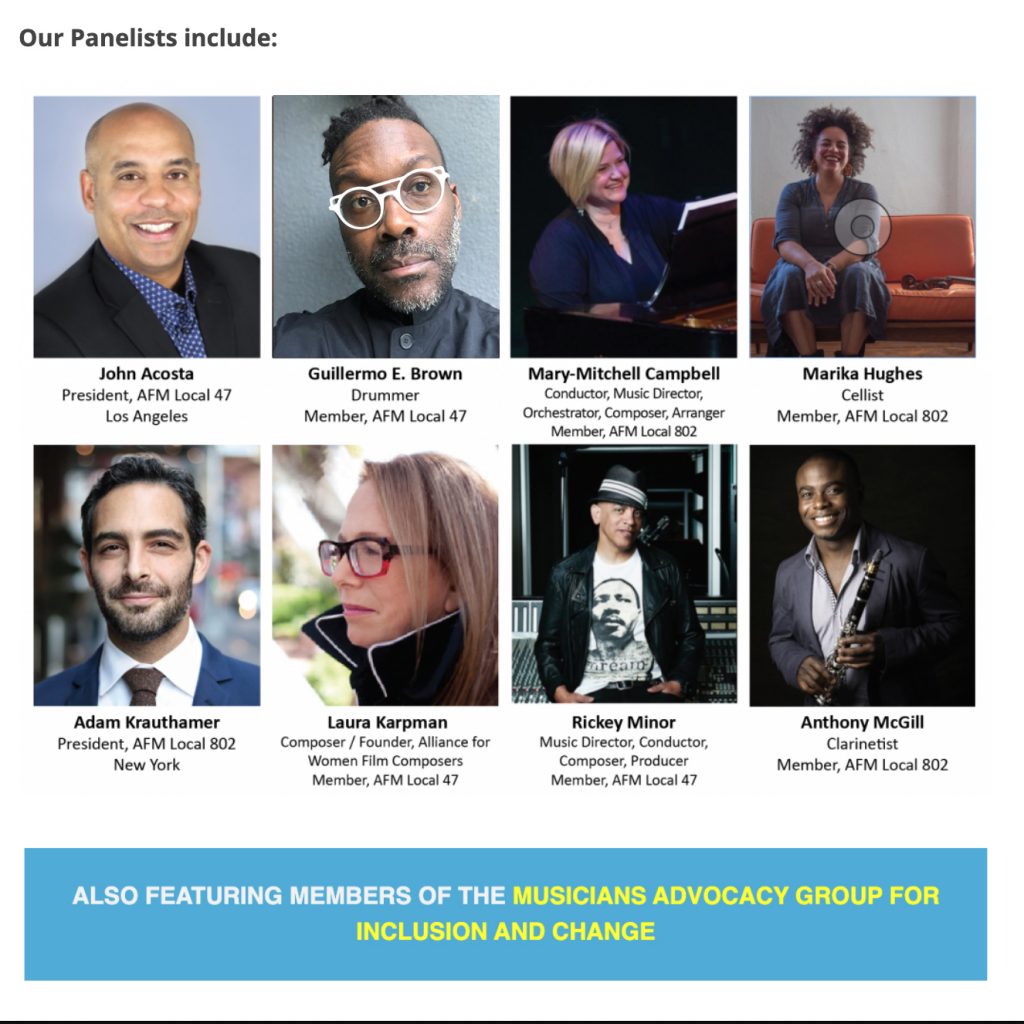 John Acosta currently serves as President of the American Federation of Musicians Local 47 representing over 7,000 professional musicians in the southern California area. John also serves as an International Executive Board member of the AFM, Vice President on the Los Angeles County Federation of Labor Executive Board, President on the Music Fund of Los Angeles Board of Directors, Director on the Actors Fund Western Council and Director on the Verdugo Workforce Investment Board.
Guillermo E. Brown, a drummer, emerged as a result of his association with David S. Ware and other free jazz musicians from New York. As a solo artist and in his work with artists such as Spring Heel Jack and Matthew Shipp, he has attempted to combine free and traditional jazz playing with electronic music, hip-hop, and ethnic musics. Brown was born into a musical family in New Haven, CT, in 1976. He grew up around jazz, hip-hop, and rock, and he became involved with ambient and techno after hearing DJ Spooky. Brown replaced Susie Ibarra in the David S. Ware Quartet before the recording of Ware's Surrendered in 2000. He also played on 2001's Corridors & Parallels, the first Ware album to feature Matthew Shipp on synthesizer. In 2001, Brown also played on Rob Reddy's Seeing By the Light of My Own Candle and Roy Campbell's It's Krunch Time, as well as on Masses, an album that featured many New York free jazz musicians improvising over backing tracks created by the electronic duo Spring Heel Jack. In 2002, Brown appeared on DJ Spooky's Optometry; Shipp's jazz/hip-hop album Nu Bop; and he played with William Parker's big band, the Little Huey Creative Music Orchestra. Brown also released his solo debut, Soul at the Hands of the Machine, an album even more eclectic than those on which he had previously appeared.
Mary-Mitchell Campbell is a conductor, music director, orchestrator, composer and arranger. She has served as the Music Director for many Broadway shows including: Mean Girls, The Prom, My Love Letter to Broadway with Kristin Chenoweth, Tuck Everlasting, Finding Neverland, Big Fish, The Addams Family, Company, and Sweeney Todd. She also music directed Stephen Sondheim's last musical Road Show at the Public Theater. She won a Drama Desk for Best Orchestrations for the 2006 revival of Company starring Raul Esparza and was nominated for Best Orchestrations for her work on the Off-Broadway productions of Allegro and Hello Again. She has a very active concert career and performs frequently with Kristin Chenoweth, Gavin Creel, Jonathan Groff, Laura Benanti and Raul Esparza. In her pop career she has worked with Alicia Keys, Katy Perry, John Legend, Amy Grant, Kelly Clarkson, Stevie Wonder, James Taylor, Elvis Costello, and Josh Groban in concerts. She has conducted the Chicago Symphony, the Cincinnati symphony, the Dallas symphony, the Nashville Symphony, and many other symphonies around the United States. She is passionate about arts education and poverty reduction. She is the Founder and Co-Executive Director of ASTEP – Artists Striving To End Poverty (www.asteponline.org) which recruits and trains high level artists to work with kids in extreme situations to teach them health education and life skills through the arts. She is a regular volunteer with ASTEP programs in the U.S., Africa and India. She is from North Carolina and has taught on the faculties of Juilliard, NYU, and Boston College. http://maestramusic.org/profile/mary-mitchell-campbell
Marika Hughes knew she had to play the cello when after nine years of playing the violin, she held a cello for the first time and played the C-string; the lowest string. She was 12 and in the NYC shop of Mosa Havivi, a former student of her grandfather, the great cellist Emanuel Feuermann. That low end seduced Marika, she switched to the cello and ended her violin studies. In addition to joining the NYC based bands of Neel Murgai Ensemble, Imani Uzuri and Charlie Burnham's Hidden City she has performed and/or recorded with Whitney Houston, Mary J. Blige, Sean Lennon, Valerie June, Morley, Joey Arias, David Byrne. Lou Reed, Ani DiFranco, Iron and Wine, Dar Williams, Eric McPherson and Jolie Holland. She has appeared on The David Letterman and Jimmy Fallon Late Night shows. Marika has released two albums under her own name. In addition to her cello duties, Marika has enjoyed being a guest host for Terrance McKnight's radio show, All Ears on WQXR in NYC. And she has been a featured storyteller on the Moth. Marika lives in the countryside of Brooklyn, NY. www.marikahughes.com
Laura Karpman – A bold, incandescent talent, composer Laura Karpman creates powerful, imaginative scores that push the boundaries of storytelling. Her award-winning music, spanning film, television, theater, interactive media and live performance, reflects an audaciously creative, prodigious, fresh spirit. A fierce champion for inclusion in Hollywood, after founding the Alliance for Women Film Composers, Karpman became the first American woman composer inducted in the music branch of the Academy of Motion Pictures and Sciences, and was subsequently elected to be the first female governor of the music branch. During her short time as governor, Karpman has made indelible strides, advocating for Academy membership for dozens of underrepresented composers and songwriters, as well as spearheading the Academy Women's Initiative. Her leadership in creating opportunity and standing up for inclusion is unparalleled. www.laurakarpman.com
Adam Krauthamer currently serves as president of AFM Local 802 in New York, overseeing the entire operation of the union. Adam is the Co-Founder and Executive Director of Musicians for Pension Security. He also founded the Jerome Ashby Scholarship at the Juilliard School. Adam studied at the Curtis Institute of Music and Yale University. Since 2006 he has performed a wide variety of music, including Broadway shows, chamber music, and subbing in major orchestras. www.802musiciansforchange.com/adam-krauthamer
Rickey Minor is an Emmy Award winning Music Director, Conductor, Composer, and Producer. He has worked with the biggest music talent in the world, including: Beyoncé, Usher, Adele, Stevie Wonder, Celine Dion, Whitney Houston, Rhianna, Gwen Stefani, Janelle Monáe, Demi Lovato, Keith Urban, Diana Ross, Kelly Clarkson, Aretha Franklin, Elton John, Khalid, among countless others. Rickey's numerous television credits include The Tonight Show starring Jay Leno, American Idol, The Kennedy Center Honors, The American Music Awards, The Super Bowl, The Grammys, The Emmys, and The Oscars. Rickey has received 11 Emmy Award nominations for Outstanding Music Direction. laphil.com/musicdb/artists/3652/rickey-minor
Anthony McGill – Hailed for his "trademark brilliance, penetrating sound and rich character" (New York Times), clarinetist Anthony McGill enjoys a dynamic international solo and chamber music career and is principal clarinet of the New York Philharmonic—the first African-American principal player in the organization's history. In 2020, he was awarded the Avery Fisher Prize, one of classical music's most significant awards given in recognition of soloists who represent the highest level of musical excellence. McGill appears regularly as a soloist with top orchestras, including the New York Philharmonic, Metropolitan Opera, Baltimore Symphony Orchestra, San Diego Symphony, and Kansas City Symphony. He was honored to perform at the inauguration of President Barack Obama, premiering a piece by John Williams and performing alongside Itzhak Perlman, Yo-Yo Ma, and Gabriela Montero. As a chamber musician, McGill is a favorite collaborator of the Brentano, Daedalus, Guarneri, JACK, Miró, Pacifica, Shanghai, Takács, and Tokyo Quartets, as well as Emanuel Ax, Inon Barnatan, Gloria Chien, Yefim Bronfman, Gil Shaham, Midori, Mitsuko Uchida, and Lang Lang. In demand as a teacher, he serves on the faculty of The Juilliard School, Curtis Institute of Music, and Bard College Conservatory of Music. He is the Artistic Director for the Music Advancement Program at The Juilliard School. In May 2020, McGill launched #TakeTwoKnees, a viral musical protest video campaign against the death of George Floyd and historic racial injustice. anthonymcgill.com