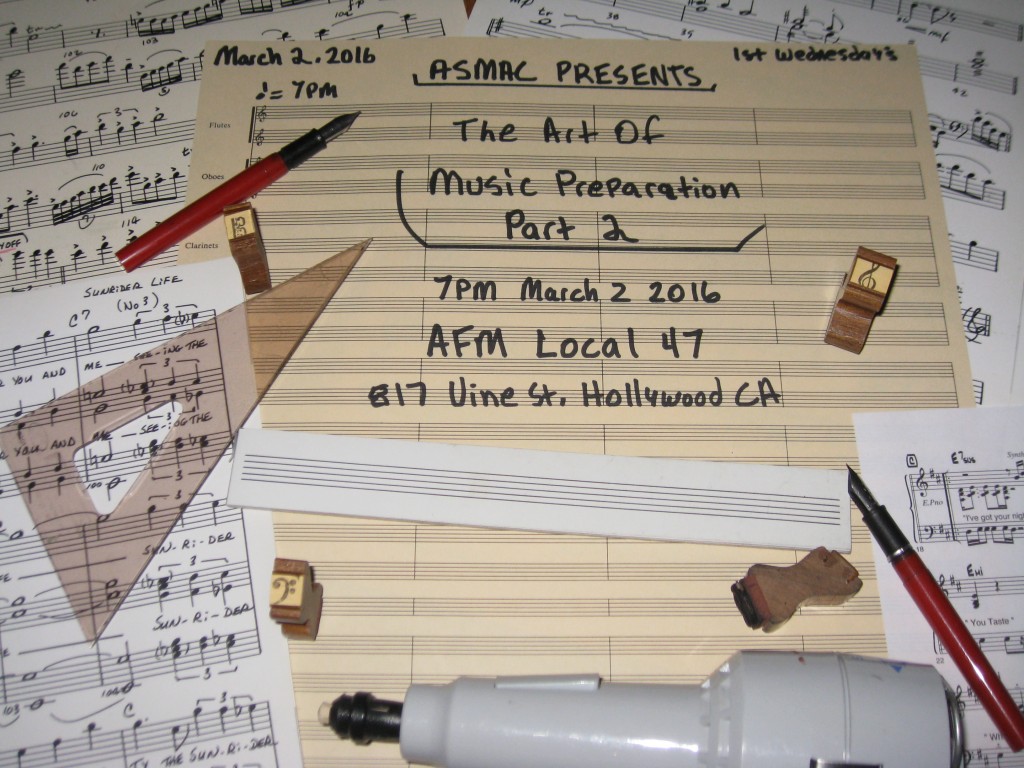 7pm – 10 pm, Wednesday March 2, 2016
Free Event for Members of Local 47 and ASMAC, $10 for guests
AFM Local 47 817 Vine St. Hollywood CA 90038
RSVP here
ASMAC continues the First Wednesday's tradition with The Art Of Music Preparation Act II on March 2, this time in the Local 47 Serena Kay & Earl Williams Auditorium.
Join us for a special and informative event with a panel of expert music copyists who will discuss how to make the most out of a musician's performance by providing the best possible manuscript.
Thoughtful music preparation saves time and money at recording sessions and rehearsals. Topics will include important tips for orchestration, notation rules, computer notation, part layout, binding, preparing midi for orchestration, proofreading, various careers in music preparation, budgets, and much more. Refine your skills as an orchestrator, composer and music copyist by attending this exciting event. We will have a Q&A between attendees and panelists. Technical questions about Finale and Sibelius will be included.
There is sure to be lots of audience interaction. Bring your questions and wisdom to share. RSVP here.
ABOUT THE PANELISTS
Ross deRoche Guardians of the Galaxy, Birdman, White House Down, Mr. & Mrs. Smith,"300," "2012," Watchmen, End of the World, The Day After Tomorrow, The Revenant, Unfinished Business, Healer, The 33, Call of Duty-Black Ops II & III; 1996, 2002 Olympics.
Liz Finch, who holds a MA degree in theory and composition, has worked as a copyist for many years in both recording and live performance, in the studio music libraries and independent music preparation offices, as well as independently for many high-profile arrangers and composers. She was sometimes known as "the girl" at a time when there were very few women in the profession. With the move to more digital music production, she has also served as an orchestrator for many films with composers such as Hans Zimmer, John Powell, and Steve Jablonsky
Kim Richmond (host) ASMAC President, Composer, Studio Musician, Emmy nominated arranger. Orchestration for Knight Rider, Arranger for Lalo Schifrin, Buddy Rich, Kim Richmond Jazz Orchestra. Orchestra member: Stan Kenton, Louis Bellson, Bob Florence, Bill Holman, and Vinny Golia. Educator: USC, UC Fullerton, Cal Arts
Jim Ciancaglini, Valle Music Reproduction Disney, The Tonight Show, Universal-MCA, 20th Century Fox, Warner Brothers, Los Angeles Philharmonic, Los Angeles Chamber Orchestra, Los Angeles Master Chorale, the Boston, Cleveland, and Cincinnati Symphonies, Aaron Spelling Production, John Addison, Lalo Schifrin, John Cacavas, the James Guthrie Music Library.