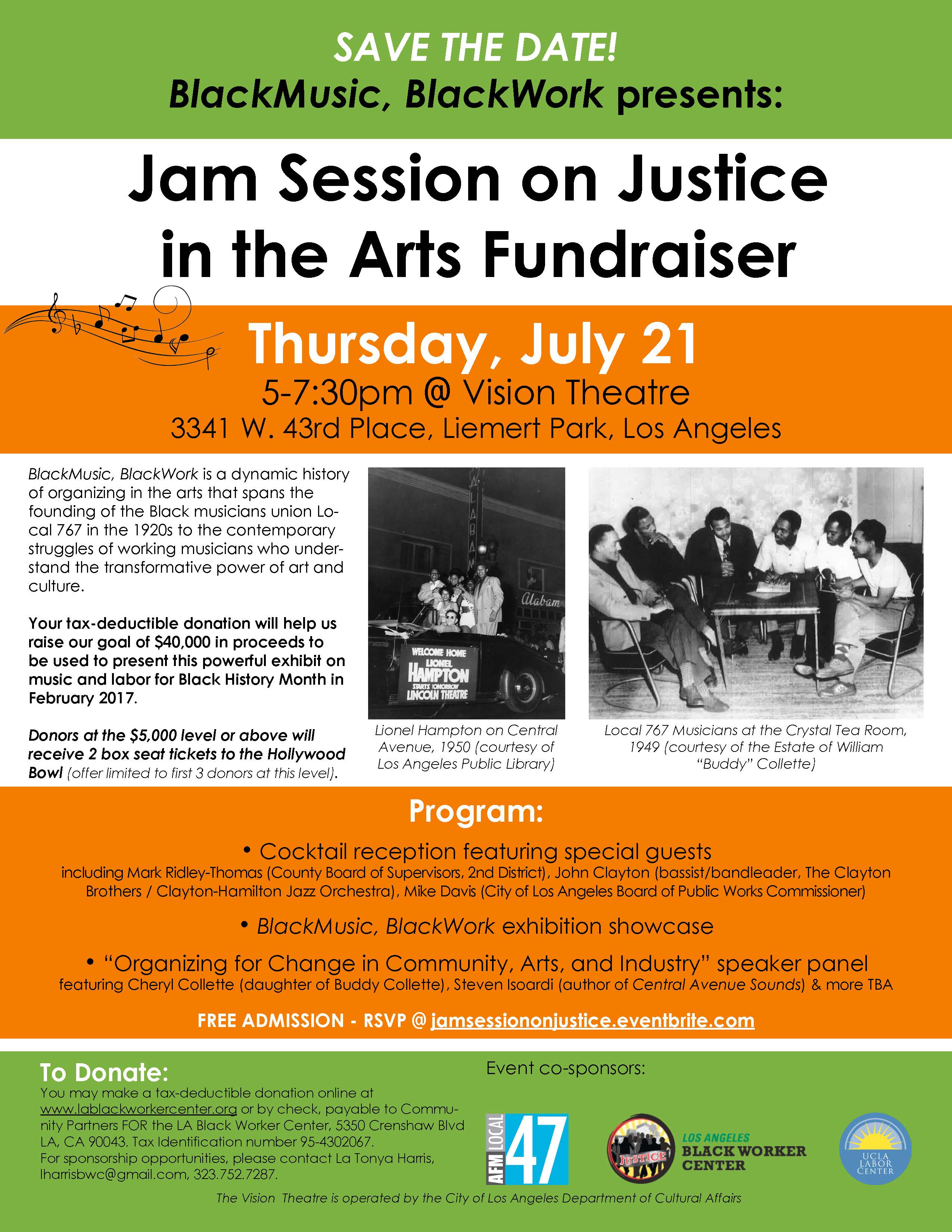 BlackMusic, BlackWork is a dynamic history of organizing in the arts that spans the founding of the Black musicians union Local 767 in the 1920s to the contemporary struggles of working musicians who understand the transformative power of art and culture.
Your tax-deductible donation will help us raise our goal of $40,000 in proceeds to be used to present this powerful exhibit on music and labor for Black History Month in February 2017.
Donors at the $5,000 level will receive 2 box seat tickets to the Hollywood Bowl!
FREE ADMISSION. RSVP @ jamsessiononjustice.eventbrite.com
The richness of Los Angeles is made up of stories that move the mind, soul, and conviction. One of those stories is the unsung bravery and artistry of early Central Avenue musicians whose work transformed L.A.'s music industry forever.
"Central Avenue was it then. At the Dunbar Hotel I could always see all the stars from back east, and all the groovy night clubs was there, too." These are the immortal words of the late, great Babs Gonzalez, bebop vocalist, hipster, and international jazz icon who hailed from the east but knew that Central Avenue was one of the world's leading centers of Black entertainment. There are few people left who walked Central Avenue in its heyday or remember when Black musicians built their own union – the Musicians Protective Association Local 767.
Please join the Los Angeles Black Worker Center, American Federation of Musicians Local 47, the City of Los Angeles, and the UCLA Labor Center and History Departments as we strive to tell this powerful story through a museum exhibit, BlackMusic, BlackWork. The future exhibit will educate Los Angeles on how L.A. artists transformed themselves, their industry, and their community. But we need your help to make it a reality! Join us at the BlackMusic, BlackWork Launch Party kicking off from 5-7:30 p.m. at the Vision Theatre in Liemert Park, Thursday, July 21, 2016. Please help us raise the $40,000 needed to bring this powerful exhibit on work, the arts, and Los Angeles to life. Your donation today will engage, entertain and educate generations of Angelenos tomorrow.
By turning this historic union's archives inside out, the exhibition will document the extraordinary—yet widely unknown—struggle of Black musicians, from Central Avenue's rise as the West Coast's cultural center, up to the present struggles of working musicians and activists who understand the transformative power of art, culture, and organization. But in order for BlackMusic, BlackWork to be a success worthy of the artists who make up the subject of the exhibit, we need your support.
As we currently witness a level of Black working-class activism that has not been seen in decades, it is important to examine the lessons of the past in order to reimagine the possibilities of work and opportunity in our communities and its impact on Los Angeles as a whole. BlackMusic, BlackWork will ignite this urgent conversation.
You may make a tax-deductible donation by filling out the BlackMusic, BlackWork Donation Form. You may also donate online at www.lablackworkercenter.org or by check, payable to Community Partners FOR the LA Black Worker Center, 5350 Crenshaw Blvd., Los Angeles CA 90043. Tax Identification number 95-4302067. For sponsorship opportunities, please contact La Tonya Harris, lharrisbwc@gmail.com, 323.752.7287.