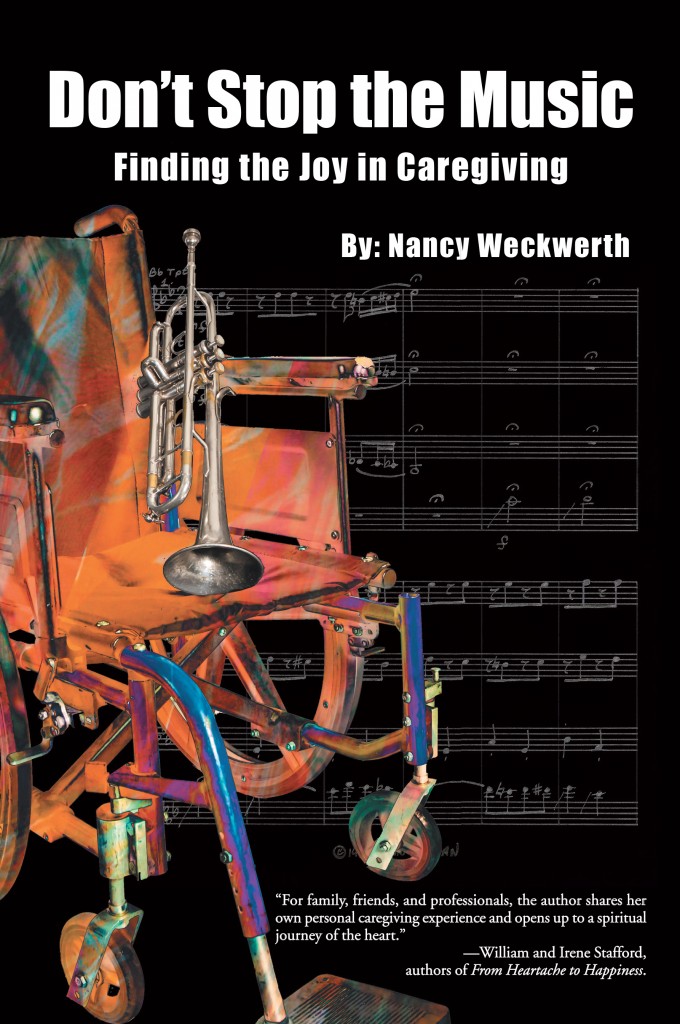 In her new book "Don't Stop the Music: Finding the Joy in Caregiving," author and musician Nancy Weckwerth (horn) has created a "survive and thrive" manual for caregivers.
Based upon over 25 years of caregiving for her friend and partner, composer and trumpeter John D. Swan (trumpet), the book describes lessons learned and solutions on how to find the joy in caregiving. Although it is written specifically for caring for a stroke survivor, the message transcends that particular condition. The wisdom within is meaningful for any caregiving situation.
Nestled within the moving story of composer and trumpeter John D. Swan's recovery from a massive stroke in 1991, the author reveals nuggets of wisdom for anyone. Each chapter contains helpful items such as:
Solutions for dealing with the health care system
Solutions for physical, occupational, and speech therapy
Solutions for travel with a person who has a handicap
Lessons learned on making the paradigm shift
Lessons learned on self-forgiveness
Lessons learned on trusting your judgment
Lessons learned on finding your new music
The two final chapters describe the pre-stroke lives of the survivor and the author/caregiver as professional musicians. Then the chapters reveal the transition into purpose and joy that they discovered as they gracefully moved into rewarding lifestyles within their new roles.
"Don't Stop the Music: Finding the Joy in Caregiving" is uniquely written with its style of sincerity and integrity. It invites the readers into the survivor and caregiver's real world of transformation. If they can live new and better lives as a result of tragedy, so can anyone. Here's how!
On the dedication page, Weckwerth writes: "This book is gratefully dedicated to the Musicians of the 'Professional Musicians, Local 47,' in Los Angeles. Their sincere and heartfelt desire to assist John with his recovery resulted in a fundraiser. This incredible event raised the funds that paid for John's private therapists for over two years. John would not be where he is today without their generosity. John and I are extremely and forever grateful for our professional musician colleagues."
"Don't Stop the Music: Finding the Joy in Caregiving" is available at: www.balboapress.com, amazon.com, and barnesandnoble.com