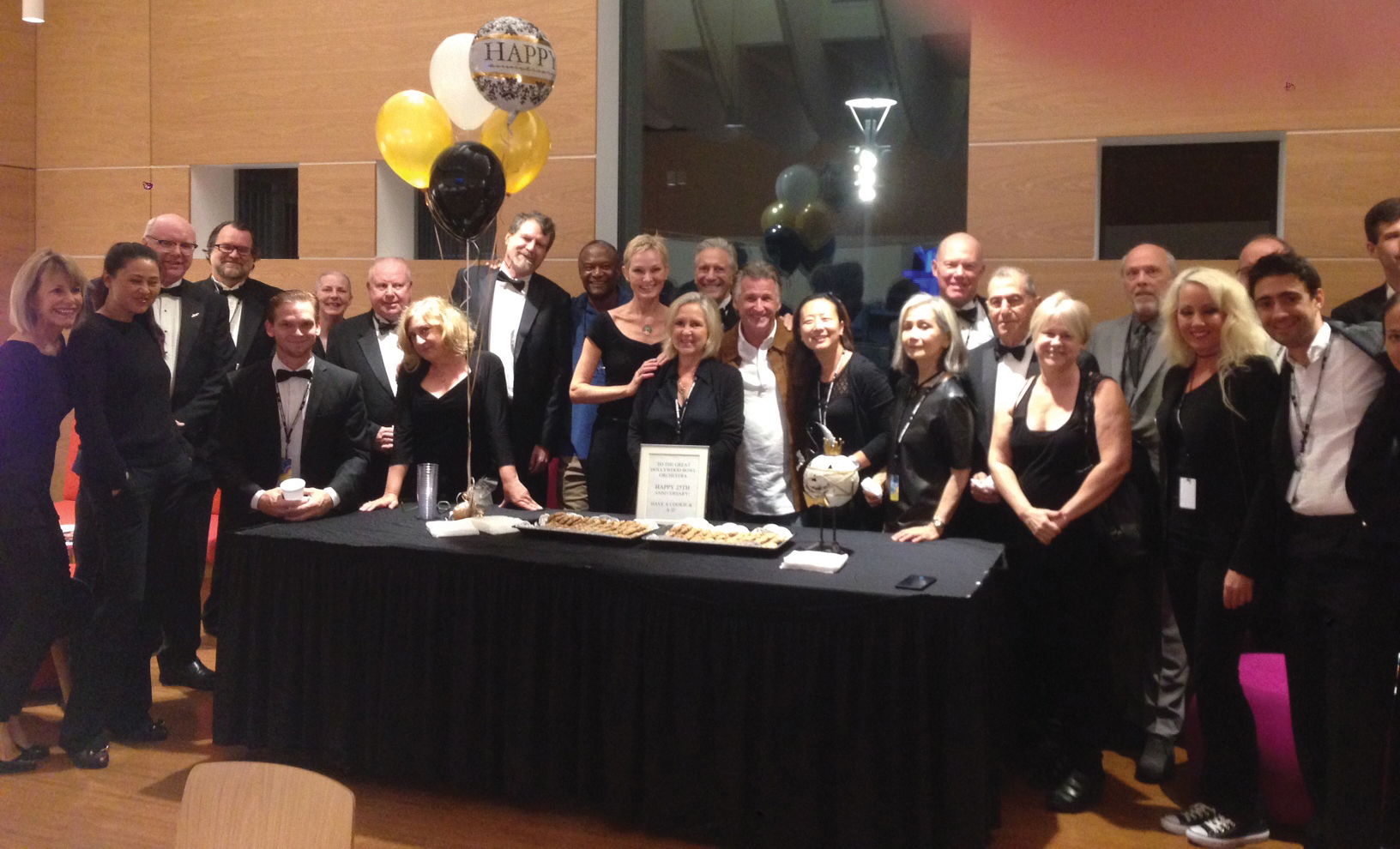 by Linda A. Rapka
In July of 1991, after a three-decade hiatus, the notion to revive an orchestra from the obscurity of distant memory became reality with a string of Independence Day concerts at the Hollywood Bowl. Rebranded in both name and impetus, the new Hollywood Bowl Orchestra made its debut under the leadership of LA Philharmonic Association executive vice president/managing director Ernest Fleischmann and the newly appointed principal conductor, John Mauceri. A quarter century later, HBO stands as a pioneer in the orchestral world and continues to deliver an eclectic repertoire as diverse as Hollywood itself.
The history of live music at the Hollywood Bowl is a convoluted one. Musicians have been performing at the dome-shaped amphitheater nestled against the backdrop of the Hollywood Hills since the Bowl's opening in 1922. "Bowl Orchestra" was used as early as 1925, and "Hollywood Bowl Orchestra" first appeared on live recordings made in 1928. The first incarnation of a permanent orchestra was in 1945 as the "Hollywood Bowl Symphony Orchestra" under the direction of Leopold Stokowski. However, after only two seasons, the orchestra was disbanded, and all the summer orchestral concerts at the Hollywood Bowl were subsequently performed by the Los Angeles Philharmonic.
Another incarnation of the Hollywood Bowl Symphony Orchestra continued into the 1950s and 1960s, led by such conductors as Slatkin, Miklós Rózsa, Carmen Dragon, and Alfred Newman, and made numerous recordings for Capitol Records before it too faded away. It would be another three decades before the Los Angeles Philharmonic Association announced the formation of a second orchestra under its auspices, this time titled "Hollywood Bowl Orchestra." (This time, the name stuck.)
Made up of an international mix of approximately 80 classically trained musicians who are among the best studio musicians in Los Angeles, HBO in a single season may perform everything from Broadway favorites to film music, pop music to jazz, and classical music to world premieres by living composers. It is this versatility that separates the Hollywood Bowl Orchestra from the pack, says Katia Popov, concertmaster since 2011.
"HBO was, and continues to be, a unique group that could play any repertoire — and with passion, fun and commitment to quality of the performance."
One of the specialties of the orchestra is the live performance of film music, much of which previously had been heard only in recorded form on the original soundtracks: Max Steiner's theme to Gone With the Wind, the "Dream Ballet" sequence from Oklahoma!, the "Born in a Trunk" sequence from A Star is Born, to name just a few.
"With John Mauceri we practically invented the whole process for playing live movie scores and the computer technology that makes it work," shared Jim Self, principal tuba since 1991. "Now orchestras all over the world are doing it."
"Most of the musicians of the orchestra are busy recording artists and scoring movies is what they do on a daily basis," Popov said. "For them to be able to do what they love and on stage in front of a sold-out house of 18,000 is a fantastic opportunity. We were the pioneers and now the world is following us. It literally saves orchestras all over the world."
Since 1997, the Bowl's annual "Movie Night" concerts, in which the orchestra plays the scores live in sync with film scenes or montages projected on the Bowl's gigantic screen, have featured some of the biggest names in Hollywood. The LA Phil/Hollywood Bowl has also partnered with non-profit organizations such as the American Film Institute and the Academy of Motion Picture Arts and Sciences to produce concerts celebrating the art of music in film. To archive these historic performances, the launch of the Hollywood Bowl Orchestra included a recording deal with Philips Classics — in fact, Fleischmann noted that the impetus for forming HBO began when Philips lost its recording contract with the Boston Pops to Sony Classical.
"The recordings we made still set the standard for a vast and unique repertory — not just music composed for films, but also the works of Ligeti, Adams, Gershwin, Wagner, and Schoenberg," Mauceri explained. "Occasionally, I listen to the archivals of our live concerts and I hope someday those who care will figure out a way to release these performances."
HBO created 13 acclaimed recordings with Philips, including "A Carmen (Miranda) Fantasy"; Act 3 of Die Walküre; Patti LuPone, Patti Austin and Patti Labelle; John Denver and Gil Shaham; and David Cassidy's "Stand and Be Proud," released to bring the community together after the 1992 L.A. riots.
One of the most meaningful moments Mauceri shared with the orchestra took place following 9/11. After having been closed, the Bowl re-opened for three weekend "Great American" concerts. "It was the HBO that brought Los Angeles back to a sense of normalcy that weekend," he said. "Jerry Goldsmith wrote a special piece for us. Completed at 11 p.m. on the Thursday night and copied through the night by Jo Ann Kane, it was on our stands at 10 a.m. on Friday. I put it between 'Fanfare for A Common Man' and 'Simple Gifts' and we performed it after the 'Star Spangled Banner.' We all remember those nights, when the audience would just not stop applauding when I came onstage to strike up our band and tell the world we would all be alright. We were there for them, making music, and showing just what 'orchestra' can mean to a community."
During his 16-season tenure, Mauceri and HBO toured Japan four times and, in November 1996, performed two public concerts in Rio de Janeiro and São Paulo, Brazil, the first time an American orchestra was invited to Brazil specifically to perform the great music of the American cinema. Breaking all records at the Bowl, he conducted over 300 concerts at the 18,000-seat amphitheater with a total audience of some 4 million people.
"I remember in one of our tours in Brazil, after the concerts the audience was lining up for our autographs," Popov recalled. "They wanted pictures with us and wanted us to sign on their arms, legs, chests… We were the movie stars! I feel the excitement at every concert we perform together. For us it doesn't matter if we are playing a whole note or a super difficult 16th note passage in quarter note = 170! We give it all. From Gershwin to Sousa, to Ligeti to Carmen Miranda Fantasy to Gil Shaham, to Placido Domingo to Earth Wind and Fire to Chicago to Blue Man Group and Act 3 of Die Walküre. I think this is the most unique quality of the HBO."
After retiring from the orchestra in 2006, Mauceri was awarded the lifelong title of Founding Director. In addition to being inducted into the Hollywood Bowl Hall of Fame alongside Plácido Domingo in 2007, Mauceri received a Treasure of Los Angeles Award, a Young Musicians Foundation Award, and even his own day, "John Mauceri Day," by the state of California.
In 2008, Thomas Wilkins began his appointment as principal guest conductor of the Hollywood Bowl Orchestra. He became principal conductor in 2014.
Last month the orchestra concluded a smooth round of negotiations, and are poised to ink a new three-year contract that includes increased wages and improvements in safety and comfort standards.
"Orchestra-Management relations are at an all-time high," said Rob Frear, trumpet player who serves on the bargaining committee. "I look forward to Thomas Wilkins continuing his active involvement in making the HBO an essential part of the Los Angeles Philharmonic Association and the Hollywood Bowl. The orchestra's continued viability depends largely on these two factors. I am very proud of the 26 seasons I have been a member of the orchestra, and hope that our new members will have the same phenomenal musical experiences and fond memories over the next 25 years."
Concertmaster Popov looks optimistically to a bright future for HBO. "I see the orchestra growing and continuing to bring joy and fun through music, to inspire and bring together, and show that after all everything will be all right. We will always be there for these loving fans, and they will always be there for us."
"We were blessed with an opportunity and we fulfilled it," Mauceri said. "I raise a glass to each and every one of you who continue that belief and that commitment — and I am smiling."
HBO: 'A Musical Family'
"They were all there for me when I was battling cancer last year, and to show strength and perseverance I went on stage without covering my baldness," Popov shared. "The moment was electrifying. It brought tears in my eyes as well as to many in the audience and the orchestra around me who stood up in support feeling like I was part of their musical family."
Hollywood Bowl Orchestra
FIRST VIOLINS
Katia Popov, Concertmaster
Marisa Sorajja, Principal
Grace Oh, Associate Principal
Rebecca Bunnell
Ron Clark
Christine Frank
Yen-Ping Lai
Radu Pieptea
Gil Romero
Yutong Sharp
Shelly Shi
Mari Tsumura
SECOND VIOLINS
Robin Olson, Principal
Cheryl Norman Brick, Associate Principal
Nicole Bush
Pam Gates
Razdan Kuyumjian
Natalie Leggett
Liane Mautner
Carolyn Osborn
Robert Schumitzky
Kathleen Sloan
Olivia Tsui
Vivian Wolf
VIOLAS
Erik Rynearson, Principal
Associate Principal (vacant)
Victor de Almeida
Carrie Holzman-Little
Carole Kleister-Castillo
Robin Ross
Stefan Landon Smith
CELLOS
Dennis Karmazyn, Principal
Armen Ksajikian, Associate Principal
Giovanna Moraga Clayton
Trevor Handy
Julie Jung
Erin Breene Schumitzky
Xiao-Dan Zheng
BASSES
Tim Barr, Principal
Denise Briese, Associate Principal
Jeff Bandy
Paul Macres
Barry Newton
FLUTES
Heather Clark, Principal
Lawrence Kaplan
Steve Kujala, piccolo
OBOES
Lelie Resnick, Principal
Chris Bleth
Catherine Del Russo, English horn
CLARINETS
Gary Bovyer, Principal
Michael Grego
Ralph Williams, bass clarinet
BASSOONS
Rose Corrigan, Principal
Elliott Moreau
Allen Savedoff, contrabassoon
HORNS
John Reynolds, Principal
Mark Adams
Joe Meyer, Associate Principal
Todd Miller
TRUMPETS
Robert Schaer, Principal
Jon Lewis
Rob Frear
TROMBONES
William Booth, Principal
Alexander Iles
Bass trombone (vacant)
TUBA
Jim Self, Principal
TIMPANI
Tyler Stell, Principal
DRUMS
Brian Miller, Principal
PERCUSSION
Wade Culbreath, Principal
Gregory Goodall
HARP
Mindy Ball, Principal
KEYBOARDS
Alan Steinberger, Principal
ASSOCIATE CONDUCTOR
Scott Dunn
MANAGER
Brian Grohl
PERSONNEL MANAGER
Brian Miller
LIBRARIAN
Steve Biagini
ASSISTANT LIBRARIAN
Marty Fenton Frear
PRINCIPAL CONDUCTOR
Thomas Wilkins
FOUNDING DIRECTOR
John Mauceri