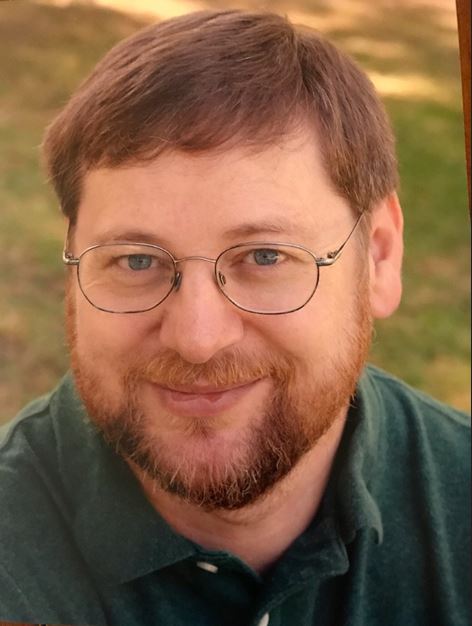 2/6/1961 – 11/4/2017
Member. Timpani
Alan Wesley Reinecke, professional percussionist and computer technologist, died Nov. 4 at home in Arcadia with his wife, parents and sister at his side. He was 56, and had been diagnosed in April with pancreatic cancer.
He is survived by his wife, Fatima, to whom he was married in 2015; stepson Lance Corporal Shawn Mortazevi of the U.S. Marines and stepdaughter Noura Mortazevi, a student at First Avenue Middle School, Arcadia; his parents, Wayne and Susanne Reinecke; sister and brother-in-law Janet and Wayne Kawamoto; nieces Alysha and Emily Kawamoto and Dana Horton (George Tsai); and nephews Kimball Horton and Justin Kawamoto. Another sister, Lynn Reinecke Horton, died in 1995.
Alan was born Feb. 6, 1961 in Anaheim, California, and grew up in Arcadia, attending public schools including Arcadia High School, where he was a percussionist in the concert bands, marching bands and orchestra, and played trumpet in the pep band.
He earned a bachelor's degree in percussion performance at the University of Southern California (USC) in 1983. He also attended Music Academy of the West and the Los Angeles Philharmonic Institute, and played in the marching band at the 1980 presidential inauguration in Washington, D.C., and at the 1984 Olympics in Los Angeles.
He was music director of the Pasadena Community Orchestra from 2008 to 2013, succeeding his father, founding director Wayne Reinecke. Alan had been the orchestra's principal percussionist and timpanist from its founding in 1983; he held similar positions in the Whittier-based Rio Hondo Symphony for more than 30 years. He was founder and director of the Bach to Beethoven Band, based in San Dimas, in the mid to late 1990s. He also played for St. Matthew's Chamber Orchestra (Pacific Palisades), the Pasadena Symphony Orchestra, the Redlands Symphony and many other Los Angeles-area music groups.
He worked most recently as an information technologist for Panda Restaurant Group. He previously held similar positions at Toyota of Torrance, Delta Dental of California, 20th Century Fox Studios, and Rainbird Corp. In the 1980s he coached percussion classes at Arcadia High School and Mountain View High School in El Monte.
Alan enjoyed opera, classical music concerts, Dodger baseball and other sports and his beloved USC Trojan football team. He also liked chess, Sudoku and crossword puzzles, and was fascinated by historical sites and museums, as well as science, technology and mathematics. He loved studying music scores and reading classic literature, especially the works of Charles Dickens.
Interment will be private. In lieu of flowers, memorial gifts may be made to the Pasadena Community Orchestra, Convalescent Aid Society or Pancreatic Cancer Action Network.
Messages to the family may be sent to suevla@earthlink.net, or by postal mail in care of Janet Kawamoto, 840 Echo Park Avenue, Los Angeles 90026.