Life Member. Bass
(1931 – 2018)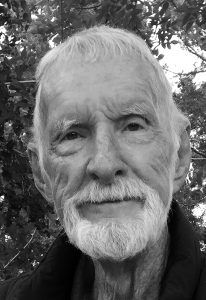 Albert "Whitey" Clyde Hoggan Jr. passed away Feb. 6, 2018 at his home in Livingston, Montana. Born in Ogden, Utah April 4, 1931, to Albert Clyde Hoggan, Sr. and Fae (Gorder) Hoggan, he grew up between Ogden; Preston, Idaho; and Grouse Creek, Utah.
Clyde attended Ogden High School and Weber State University. In 1950 he enlisted in the Air Force, joined the 523rd Air Force Band, March Air Force Base, and was stationed in Guam during the Korean War. He received a National Defense Service Medal and an Honorable Discharge. Upon returning stateside, he married Joanne Elaine Fetscher. In 1954 they moved to Los Angeles on their honeymoon so he could pursue a profession in the music industry.
His musical career spanned over sixty years. Beginning with tuba he moved on to double bass and bass guitar. His career took him to five continents, traveling the world and the United States with Big Bands, Broadway shows, working in nightclubs, casinos, television, movies, and recording studios. He also was an accomplished music copyist.
He built his first boat in 1963 and then progressed through four more vessels, each bigger than the last. His love of sailing kept him on the water for many years while gathering many friends along the way.
Clyde was preceded in death by his loving wife of 54 years, Elaine Hoggan; his parents Albert Hoggan and Fay Simpson; his sister-in-law Nancy Lublin MacKay; his brothers-in-law Donald Lublin, Jack Mackay, and William Tanner; and nephews Charles Greg Lublin and Richard Lublin.
He is survived by his daughters Heather Ann Hoggan (Frank Parrello) of Eagle Rock, CA and Robin Lee Hoggan (Bob Ebinger) of Livingston, MT; his sister Mary Kay Tanner of Dallas, TX; nieces and nephews Mary Fay (David) Terrell, Steven Tanner, Andy Lublin, Patti (Bernard) Gille, Karen (Marvin) Miller, Kris Lublin, Brad (Linda) Tanner, Marc Tanner; and his nieces-in-law Susan and Roxanne Lublin. He is also survived by his "adopted family" Arnold Rollin (Sunny Welles), Alexander White, and Doris Ho.
Clyde, a kind and gentle man, was the Dad of the neighborhood, always ready to lend a hand or offer a sofa to someone in need. In his career he was an unmitigated pro following a vision of the music he held to be pure and authentic. His wry sense of humor and understated sarcasm subtly hovered beneath the surface of his conversation.
A celebration of Clyde's life will be held in Los Angeles in April. Interment at Utah Veterans Cemetery & Memorial Park summer 2018. Memorial donations may be made to Livingston Center for Art and Culture, Livingston, MT, the Arroyo Arts Collective, Los Angeles, CA, or the charity of your choice.