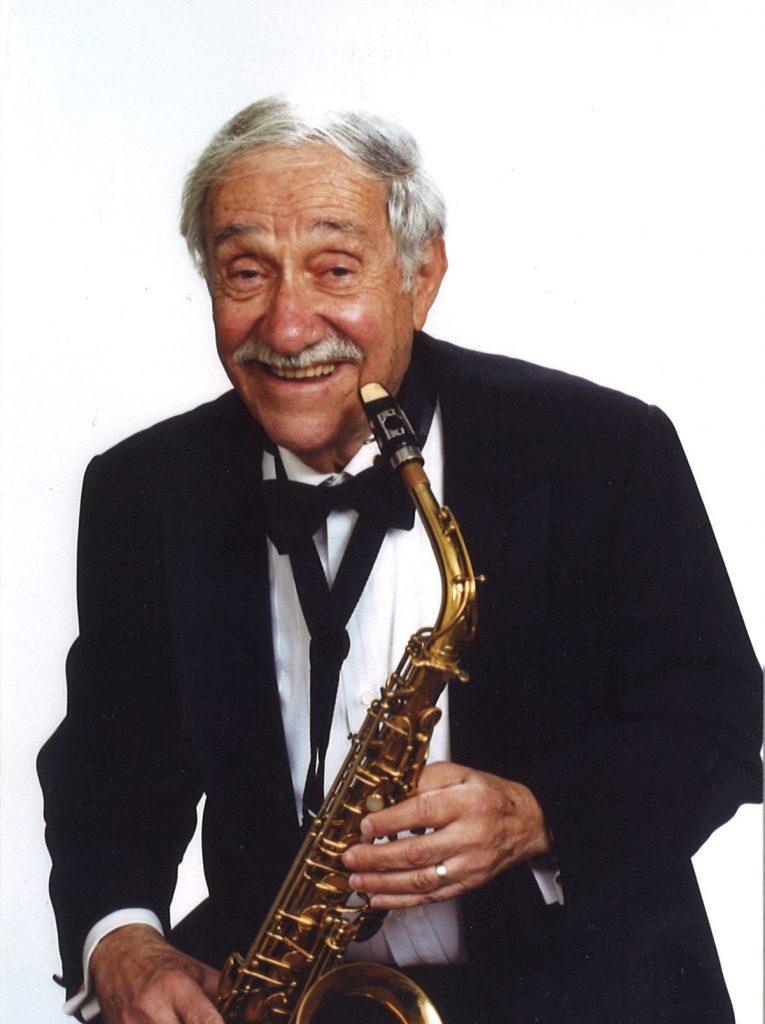 11/10/1924 – 1/20/2017
Life Member. Saxophone/Flute/Clarinet

Andreas "Andy" Kostelas was born on November 10, 1924 to immigrant Greek parents, George and Mary. Andy grew up with two siblings in Sedalia, Missouri where he began his study of the clarinet as a student He began his professional career at age 16 where he performed at several local watering holes and dance establishments.
Andy then joined the United States Armed Forces Band and was fortunate to trade a gun for a horn with the 457th Army Air Force Band. Upon discharge, he attended  USC and graduated with a Bachelors in Music and a California teaching credential, Andy toured with the Freddy Martin Big Band and soon settled in Los Angeles He started a family, had three girls and began a successful career in the L.A. recording industry. He was a doubler extraordinaire and mastered flute, sax, English horn and oboe. The Los Angeles Philharmonic called upon his talent several times to perform compositions requiring the rare proficiency of classical saxophone. Andy also recorded for notable vocalists and TV and movie productions. He later relocated to San Pedro, to join his new bride JoAnn Phillips.  They spent 30 happy years together. Playing tennis into his eighties, Andy also wrote fiction and non-fiction and could always be counted on for his special "corny" jokes.
Andy will be greatly missed by many loved ones including wife JoAnn Kostelas, daughters Maria Kostelas, Elaine Fischer, Andrea Retamal, sons-in-law Mark Fischer and Sergio Retamal, and grandchildren Danielle and Cara Fischer and Sean Retamal. Andy also appreciated the love of his extended family, which includes Pam and Bill Scholtz, Rob and Pam Chisholm, Julie and Marine Cano, and Norrie McCreary, as well as 10 grandchildren. Andy will be remembered for his kindness and goodness. We take heart in knowing this gentle good man will continue to play his song in the heavens.
Funeral services will be held Friday, January 27 at 10:30 a.m., St. Katherine's Greek Orthodox Church 722 Knob Hill Ave. Redondo Beach, CA 90277. In lieu of flowers the family has requested donations be made to The Neighborhood Music School Association, 358 South Boyle Ave. Los Angeles, CA 90033-3813.