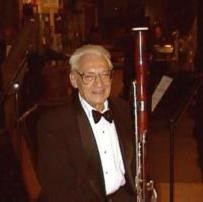 Life Member. Bassoon
4/21/1921 – 5/28/2018
Charles Arnold Gould (Charlie) was born April 21, 1921 in Worcester, MA and was blessed to recently reach his 97th birthday. He was the sixth child in a family of seven children, four girls and three boys.
Charlie began studying bassoon and piano at an early age in Worchester, MA. He won a scholarship at Juilliard Graduate Music School. Later he also earned a Masters of Arts in Music Composition from UCLA. War interrupted his studies and career. During World War II he attended the U.S. Army Bandleader School, was made Warrant Officer, and transferred to Santa Monica to lead his own band. After army service, he settled in Los Angeles, married, and had three children, two boys, and a girl.
Thereafter, he played bassoon with the Boston Symphony, Kansas City Philharmonic, Los Angeles Symphony, Hollywood Bowl, Pasadena Symphony, Glendale Symphony, Orange County Philharmonic, Boston Pops, Long Beach, and Houston Symphonies. He was the principal bassoonist for MGM Movie Studios and has played with many other movie/TV studios for over 25 years. Charlie's bassoon performance can be heard in these fine MGM movies: Singing in the Rain, American in Paris, Seven Brides for Seven Brothers, Westside Story, and Spartacus among many others. Charlie has performed his own Bassoon Concerti with Long Beach, Houston, and New Valley Orchestras. In his later years he was the principal bassoonist with the MESTO orchestra, under direction of Nabil Assam, which played around the world.
Charlie has arranged many modern and classical compositions and pieces for bassoon and/or piano. His experience and talents in musical composition and arrangement helped prepare him for his home concert series, when, in his eighties, Charlie with his wife Erika Zador Gould (distinguished concert pianist) started the "Bach to Blues" Home Concert series featuring local musicians and singers. Charlie and Erika's home concerts developed a devoted following of family, friends, and fans. Through Charlie's direction and with a little help from adoring family and friends the home concerts happened monthly and went on for 10 years. The music programs always included a classical piano piece by Erika Zador like Chopin and Liszt and other classical / jazz / popular pieces with Charlie playing both piano and bassoon. Some of his favorite classical composers featured were Bach, Mozart, Beethoven, and Zador. Some of his favorite jazz/popular composers featured were Claude Bolling, Art Tatum, Gershwin, and Scott Joplin. Charlie was an excellent piano player as well and played all kinds of music with a passion. His music sight-reading capabilities were legendary and he was a very good piano accompanist for singers.
Besides music Charlie kept politically and socially aware. He was an avid reader and history buff. He loved to champion the people's cause. He kept physically active swimming almost every day for most of his life. He watched his children and grand-children grow up. He was an incredible man, who we will miss so much. All of us are blessed to have known him.
Charles Arnold Gould passed away peacefully in his sleep on May 28, 2018. His last Bach to Blues home concert was just 2 months before he passed away (March 25, 2018). He is survived by his daughter, his son, and his step-son with many grandchildren and great grandchildren. His eldest son passed away in 2011. Charlie lived an amazing musical life that was filled with love and humanity. He gave of himself and his music and the world is a better place for his existence.