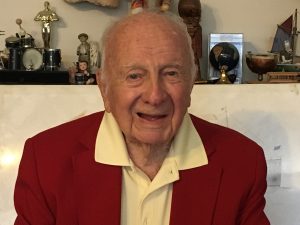 Life Member. Drum Set
12/26/1919 – 6/11/2018
Donald Roy Knapp was born December 26, 1919, in Minneapolis, Minnesota. He passed away peacefully in Chicago on June 11, 2018 after recovering from two recent hip fractures. He was the son of Roy Cecil Knapp and Nellie Johnson (Knapp) Shillito. He was married to Lorie Downs (deceased in 1975); and to Kimberly Granger (divorced).
Other relatives include Sister Dorothy Jane Knapp Law (deceased in 1983); Brother James Knapp (deceased in 2013); Niece Dianne Frances Law Barches (Myrtle Beach, South Carolina), Niece Lynda Anne Law Wilson (Birmingham, Alabama), and Niece Barbara Jane Law White (Bethany Beach, Delaware).
Education: Don attended Sullivan High School and Hyde Park High School in Chicago. He also studied music at Metropolitan School of Music in Chicago, and attended Voss Business College.
Employment: Don Knapp served in the U.S. Navy from 1941-1945 and ended his naval career as a Musician First Class. He served on the USS Colorado and USS Mississippi during World War II in the Pacific, and was also stationed in Oceanside, California. Don was a drummer in the band of several hit Broadway shows in the 1950s and 1960s. He learned the drums from his father, Roy Knapp, a well-known Chicago drum teacher who taught the legendary Gene Krupa. Don played in three productions of "Hello Dolly" with Betty Grable, Pearl Bailey and Carol Channing. His big break came in 1958 when he appeared with the original cast of "Guys and Dolls." Other shows he played with include "West Side Story," "No No Nanette", with June Allyson, "Can Can," "Fiddler on the Roof," with Zero Mostel and "Once Upon a Mattress," with Buster Keaton. He also toured one season with the Barnum & Bailey Circus, and two seasons with the Ice Capades. He was also on the staff of the WLS Radio Show in Chicago. In his later years, he worked part-time for the Elk's Lodge National Headquarters in Chicago.
Organizations and Memberships: Don was a member of the Chicago Federation of Musicians, where he was Secretary Treasurer for 6 years (1994-2000). He was also a life member of the New York Local 802 Musician's Union, and the Musician's Union Local 47 of Hollywood, California. He was also a member of the Mason's, Elks, and Shriners. He played drums for many Shriner's parades in Chicago.
Awards, Honors, Achievements: In 1996, Don was recognized in the 50th edition of Who's Who in America. In 2012 he received the Dal Segno Honoree Award for his long years of service as a percussionist.
Additional Information: Don's friends and family will host a celebration of Don's life in Chicago in August 2018. Information will be posted in July on Don's Facebook page.