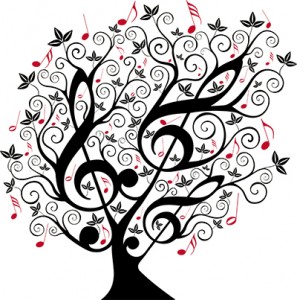 Life Member. Piano
10/17/1916 – 3/2/2015
by Jacqueline Rankin, daughter
Esther Klein Roth, a classical pianist and long-time life member of Local 47, died March 2, 2015, at the age of 98. Esther was a child prodigy whose teachers included Olga Steeb, Alfred Mirovitch, and Alexis Kall. Josef Hofmann, the eminent pianist and director of the Curtis Institute of Music heard her play and urged her to attend the Institute, but she had to pass up this opportunity because of the hard economic times.
While Esther could have had a career as a concert pianist, she chose a different path. She became the wife of violinist, Henry Roth. They were devoted to each other and partners in every sense of the word for 58 years until his death in 1999.
Esther and Henry enjoyed a rich musical life. They performed together professionally and for friends at home. Esther worked in the studios and the recording industry and from time to time would appear as a pianist in the movies. She gained a reputation as an exceptional accompanist and was in great demand.
With her considerable energy, spirit, and intelligence, Esther worked alongside Henry as he rose to prominence as a music critic, violin teacher, lecturer, and the author of books and articles about violinists and the art of violin playing. Together they led an exciting life traveling the world, attending major musical events and judging competitions.
Esther and Henry were active in union politics on both the local and national levels. They participated in the movement to integrate the two local musicians' unions and fought vigorously to improve the professional lives of all musicians. For all their political activism and involvement in the world of music, they found the time to be strong and loving parents to their daughters, Jackie and Birdie. In later life they were the adored and adoring grandparents of Mandee and Ben.
In addition to her musical gifts and her love for her family and friends, Esther was a person of tremendous loyalty and integrity. She was very sensitive and deeply caring. If you needed help, she was the first to arrive.
Esther leaves her daughters, Jacqueline Rankin and Roberta Black; son-in-law, Hugh Black; her grandchildren, Amanda and Benjamin Black; and sister, Helen Tilles.
Services for Esther were private.