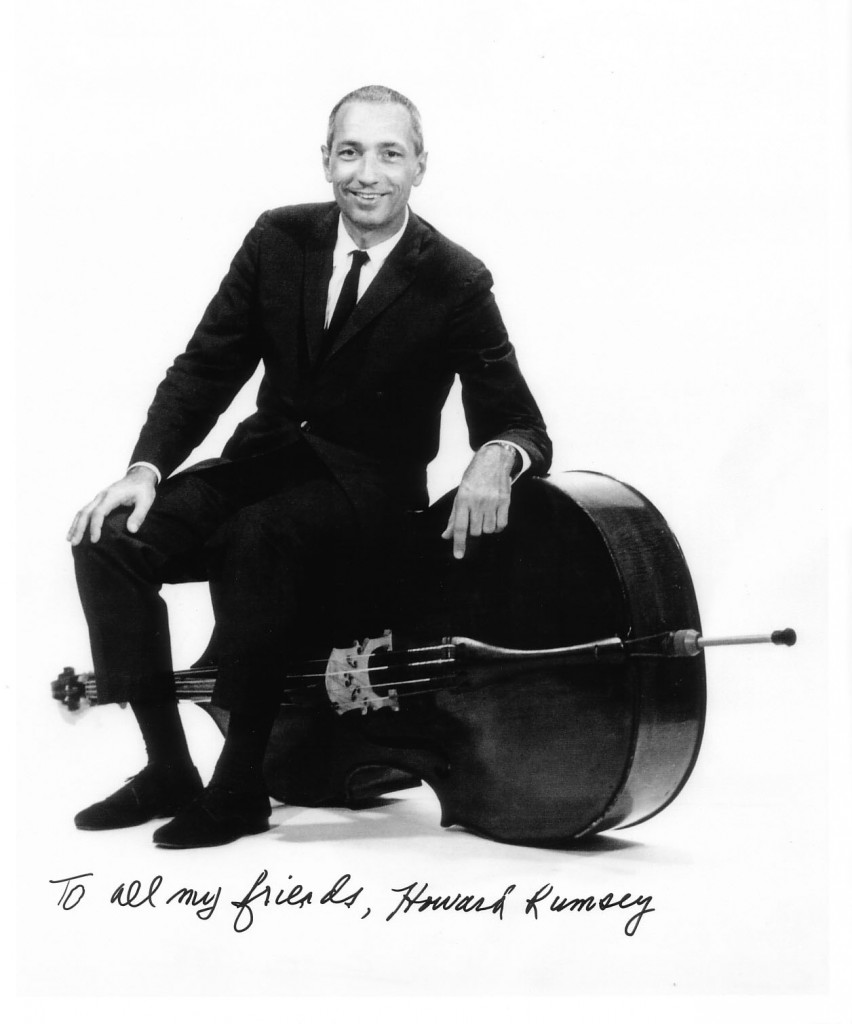 Life Member. Bass
(11/7/1917 – 7/15/2015)
by Glenn A. Mitchell, Life Member, Local 47
Howard Rumsey was a true jazz music entrepreneur. He was also the last survivor of the original Stan Kenton Orchestra playing upright contra bass. Rumsey passed away July 15, 2015, at age of 97 years.
After his tenure with Kenton, Rumsey was looking for another playing job and discovered a place in Hermosa Beach called the Lighthouse. Its owner, John Levine had purchased the club in 1948. The business was not doing very well. Rumsey met with Levine in 1949 and had an idea to make Sunday afternoon jazz concerts. Levine shrugged and said, "Why not?" The concerts became very famous over the next several years, playing not only to adults, but also to college kids as well. Rumsey brought many upcoming jazz musicians to this very successful club. He also made up his Lighthouse All Stars, who included drummer Max Roach, composer and trumpeter Shorty Rogers and saxophonists Jimmy Giuffre and Bob Cooper of several. His booking of world class groups were: Gerald Wilson, Cal Tjader and Dexter Gordon to name a few.
When John Levine died in 1970, Levine's son wanted to change the music to more of a blues type venue. Howard had a chance to manage a new venue Concerts By The Sea in 1971 where, in Redondo Beach, the pier was made into a horseshoe arrangement with a large restaurant at one end and Rumsey's club on the other end. He ran Concerts By The Sea for another 15 years and then finally closed down the club in 1986 as he felt the music was changing to more electronically based jazz and was also needing to retire. Over time, Howard Rumsey brought many more world famous jazz artists to his club, some of the same listed above and satisfied jazz enthusiasts everywhere.
The photo above (circa 1955) shows Howard Rumsey sitting on his bass, wishing the best to all his friends.
Howard Rumsey was a Life Member of AFM Local 47.