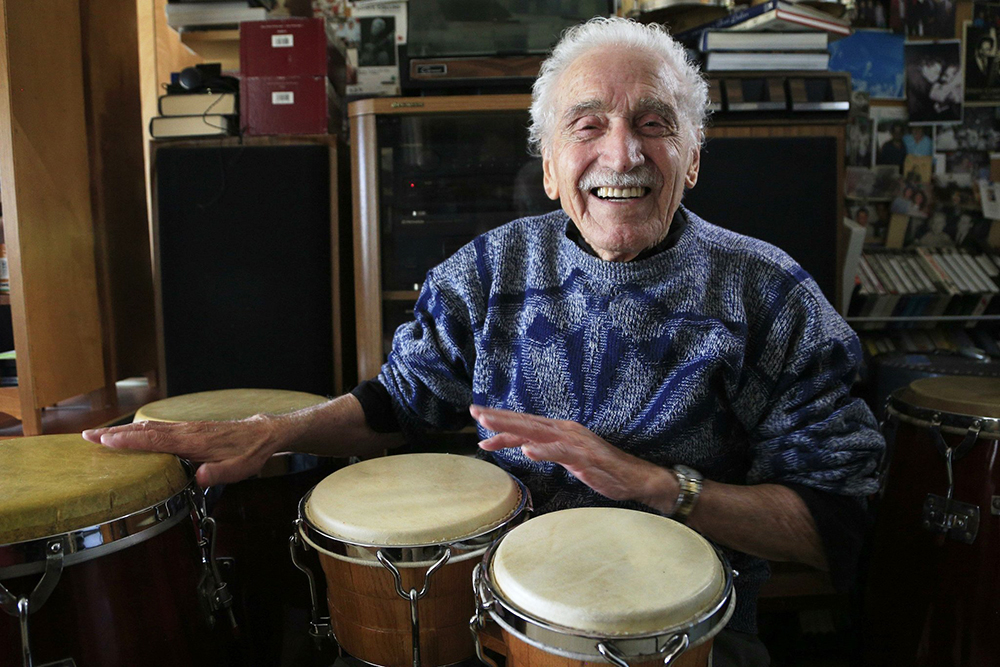 Life Member. Bongos
9/24/1919 – 8/18/2018
Born in Sept. 24, 1919 in Chicago, Illinois, Jack Costanzo universally gets credit for introducing the bongo drums to American jazz. As a teenager, he witnessed a Puerto Rican dance group whose leader played bongos, and there was no looking back. With no one to help, Costanzo had to teach himself to play. He fashioned a pair of bongos out of wooden butter tubs and began his long percussion quest.
He started in show business in his later teens as a dancer and then toured with his soon-to-be first wife, Marda Saxton, as a dance team, finally ending up in Los Angeles after serving in the Navy in World War II. His dance career in Los Angeles began as an instructor at the Beverly Hills Hotel, where Latin bandleader Bobby Ramos first saw him playing in a jam session in 1946, which sparked his career as a professional musician. In the mid-'40s, he worked with a number of bands including those of René Touzet, Desi Arnaz, and the Lecuona Cuban Boys, but his big break came in 1947 when jazz giant Stan Kenton brought him into his orchestra.
His pioneering bongo work is heard on such Kenton classics as "The Peanut Vendor," "Cuban Carnival," "Bongo Riff," "Monotony," and "Abstraction." After the breakup of Stan Kenton's band in the late '40s, Jack then moved on to a lucrative gig with Nat King Cole. Costanzo worked with Cole from 1949 to 1953 and can be heard on the classic tunes "Calypso Blues" and "Go Bongo."
After his tenure with Cole ended, Jack then started his own band and released Afro Cuban Jazz North-of-the-Border for Norgran Records in 1955. His mambo/Latin-jazz dream, though, came to fruition on his 1957 GNP Crescendo Records LP, Mr. Bongo, thus leading to groundbreaking records through the '50s and '60s with the Verve, Liberty, Sunset, Tico, Zephyr, Clarity, Tops, and Golden Tone labels. Over his long career Jack released 20+ albums as a leader into the 2000's with his latest releases being "Back From Havana" in 2001 and "Scorching The Skins" in 2002. In the live arena, his band maintained a status as one of the top Latin orchestras in the United States throughout the '50s and '60s with amazing players coming out of his band, including Eddie Cano, Al Escobar, Chino Pozo, Johnny "La Vaca" Rodríguez, Modesto Duran, Luis Miranda, Vladimir Vasiloff, and Carlos Vidal.
Costanzo was constantly at work in the studio and at concerts and club engagements, working with luminaries such as Dizzy Gillespie, Charlie Parker, Miles Davis, Lester Young, Max Roach, Bud Powell, Harry James, Buddy Rich, Art Pepper, Shorty Rogers, the Lighthouse All-Stars, Henry Mancini, Frank Sinatra, Peggy Lee, Ella Fitzgerald, Barbara Streisand, Esquivel, Pérez Prado, Yma Sumac, the Supremes, and Sam Cooke. In addition Jack co-starred in many television shows/motion pictures throughout his career including "Johnny Staccato" with John Casavetes, "Visit to a Small Planet" with Jerry Lewis, "Bernadine" with Pat Boone, and "Harum Scarum" with Elvis Presley.
Master bongo player/conga drummer/musician Jack Costanzo passed away peacefully with family and friends by his side on Aug. 18, 2018.