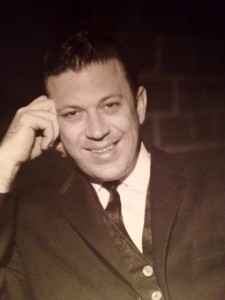 Former Life Member. Piano
(May 6, 1930 – April 23, 2015)
By Vince Fanelli
We lost a good friend and a fine musician when Local 47 member of over 60 years, Mark Anthony Traversino passed away on April 23, 2015.
Piano was Mark's instrument and the strong influence of the early be-bop masters was always present in his playing. He was also a prolific songwriter and instrumental composer. Although commercial success eluded his efforts, he managed to produce an extensive, excellent body of work. His active playing years were between the late 1940s and the 1980s, often leading his own combo.
During the 1960's he owned and operated, at different times, two night clubs where, in addition to his own playing, patrons enjoyed the performances of some of Local 47's finest and best known Jazz artists.
Mark loved to tell a story and authored several novels as well as shorter fiction pieces. His last completed and published work being an illustrated children's fantasy entitled "Rocky, The One Eared Cat."
His lifestyle took a 180 degree turn in 1982 when he began his tenure in the offices of L.A. Valley College's maintenance department. The time constraints imposed by his job led him to stop performing and devote his off campus hours to writing and promoting his music and fiction. His tenure at LAVC ended with his retirement in 2000.
A native of Chicago, he was raised and spent his entire adult life in the Los Angeles area until May 2014 when he left California. He relocated in Las Vegas moving into the home of his longtime production associate and friend Giovanni Sticco and Giovanni's wife, Deepika.
2015 saw Mark's health rapidly deteriorate until he ultimately succumbed to the devastating effects of a congestive heart condition.
Mark was generous to a fault. He had a warm, gentle manner and a whimsical sense of humor which more often than not was self-directed. In other words he was just the kind of guy you'd like to have as a friend. I'm proud to say he was mine.
Addio Buon'Amico.
Mark leaves a sister, Catherine, and a nephew, Kevin.