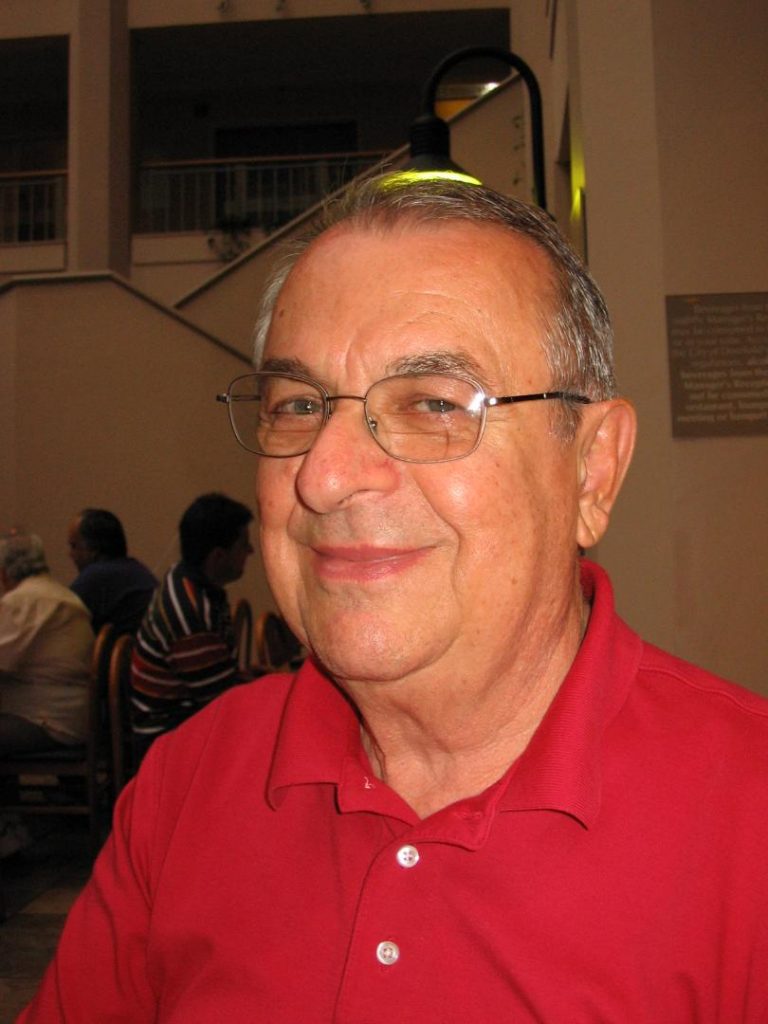 Former Member. Trumpet
5/19/1929 – 1/5/2019
by Kirk Silbee
Ralph Jungheim, a record producer, impresario, photographer and an all-around friend to jazz, has died. He oversaw 58 albums as an independent producer for such artists as Earl "Fatha" Hines, Freddie Hubbard, Ruth Brown, Joe Pass, Michel Legrand, Jimmy Rowles, Freddy Cole, Jimmy Witherspoon, Howard Rumsey's Lighthouse All Stars, Jack Sheldon, Wild Bill Davison and Eddie Miller, Jackie Allen, Dr. Bobby Rodriguez, Bill Berry's Ellington All-Stars, Charles Neville, Tommy Newsom, Mavis Rivers, James Zollar and John Dentz. Jungheim passed away on January 5, due to complications of a longtime illness.
Jungheim's approach to production was to creatively agitate his artists to get them to draw on their strengths and record something new. That challenge may have come from suggesting material or pairing the featured artist with players who were new to them. Piano legend Earl Hines wanted to play tunes that he'd recorded many times. Jungheim researched his discography and came up with a program of songs that Hines had previously never cut for Fatha Hines Plays Hits He Missed (Real Time 1978). Trumpeter Jack Sheldon's onstage clowning was eclipsing his playing, so Jungheim only recorded instrumentals on Playin' it Straight (Real Time 1981). With Bobby Shew and Chuck Findley, Jungheim took the two trumpeters away from their studio duties and let them challenge each other on jazz material of their choice for Trumpets No End (Delos 1983). Pianist Jimmy Rowles was recorded in combinations of trio, quartet and quintet—all on the same album, Jimmy Rowles Plus 2, Plus 3, Plus 4 (All Music 1989). Jungheim put Michel Legrand in the stimulating company of West Coast jazzmen like Buddy Collette and Bud Shank, and Cuban trumpeter Arturo Sandoval for Michel Plays Legrand (LaserLight 1993).
Jungheim's releases drew industry praise and accolades. Nothin' But the Blues (Delos 1984) by Joe Williams won a Grammy, Stereo Review's Best of the Year Award, the CD Review Hall of Fame Award and Digital Audio's Readers' Choice Award. Ruth Brown's Blues on Broadway (Fantasy 1989) earned a Grammy, and was also a nominee for both the W.C. Handy Award and the NAIRD Indie Award. Etta James and Eddie "Cleanhead" Vinson's The Late Show and Blues in the Night (both Fantasy 1987) also garnered Grammy nominations, as did Roy Clark and Joe Pass Play Hank Williams (Ranwood 1994), and Don Menza's Burnin' (Real Time 2002).
In his hometown of Chicago, Jungheim became a serious photographer as a teenager. Jazz musicians were his subject, and the city spread a banquet before him. He shot traditional players like Pee Wee Russell, Bud Freeman and Wild Bill Davison; bluesmen Big Bill Broonzy and Little Brother Montgomery; modernists like Dizzy Gillespie, Lennie Tristano and George Shearing; and Count Basie and Louis Jordan at the Regal Theatre. Jungheim sold his images to Down Beat (including the first nationally published photos of singer-pianist Jeri Southern) before he was out of his teens. His photo archive is now part of CTS Images, the go-to source for historic jazz images.
Armed with a Catholic school high school education, Jungheim went into advertising—first writing ad copy and then overseeing projects as a creative director. He moved to Los Angeles in 1954 to work for the Carson Roberts Agency. On radio campaigns, Jungheim used jazz broadcasters like Chuck Niles for his voiceovers. When there was music involved, he contracted the town's jazz players. Jungheim also produced a television pilot, Today's Jazz (1973).
A longtime devotee of Duke Ellington's music, Jungheim produced a 1973 Sacred Concert at St. Paul the Apostle Church in West Los Angeles. Along with Ray and Nancy Avery, Dr. Bill Hill and others, Jungheim and his wife Celinda resuscitated the L.A. chapter of the Duke Ellington Society in the early 1980s.
Record production was a natural next step for him, but Jungheim didn't take it lightly. He took trumpet lessons to sharpen his music fundamentals. Jungheim turned his recording chores over to award-winning audio engineer John Eargle, who taught accredited college courses. His first production efforts were direct-to-disc, and Eargle's expertise was invaluable to Jungheim productions. Tenor saxophonist Red Holloway was also in the Jungheim stable—leading session bands and pointing him to good players around town.
Jungheim worked with all kinds of personalities and he developed good producer instincts. Sometimes his independent producer status was mistaken for naiveté, and occasionally sidemen would ask for exorbitant fees. Jungheim would coolly remind them that L.A. had many other players who would be willing to work within the album's budget. In every case, the player of record ultimately found that he could find it in his heart to play for the agreed-upon price.
Trumpeter Freddie Hubbard, in his undisciplined period, showed up at his first Jungheim-produced session without a horn. Without telling Hubbard, Jungheim subsequently sent a limousine to reliably transport the trumpeter to his remaining sessions for Back to Birdland (Real Time 1983).
Jungheim heard the first club dates of a quartet, led by an eventual Grammy Lifetime Achievement Award winner, and came up with a catchy name for the group. He shopped them to every conceivable label; each one passed. Jungheim persisted and, though it took over a year, he got them a deal for one album with Verve. The band came to the first session without having rehearsed the material. After a day of recording with no usable takes, Jungheim said in quiet exasperation: "If you don't get one master in an hour, you're not working with professionals." Claiming creative incompatibility, the leader removed Jungheim from the project and took over his royalty points. Mental toughness allowed Jungheim to put the incident behind him, even as the band went on to record six more celebrated albums.
In his later years as producer, Jungheim recorded Andy Williams, Jack Lemmon, Johnny Paycheck, Andrea Marcovici, and Boots Randolph.
Ralph Jungheim is survived by his wife Celinda; his daughters Jill and Lisa; sons Mark and Erik Blank; grandsons Charlie Jungheim, Troy Kassien, and Alexander Blank, by his granddaughters Samantha Jungheim, Olivia Kassien and Katherine Blank. Ralph also leaves his brothers Lou, Sr., Quentin (with wife Susan), and Nick (with wife Maki), and sister Dolores (with husband Bob).
Services will be Saturday, March 16, at St. Mark's Catholic Church in Venice. In lieu of flowers, Ralph requested donations to Recovery International.