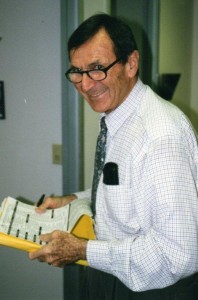 Honorary Member
11/23/1925 – 4/2/2015
by Heather Gold, wife
Ralph R. Gold, M.D., affectionately aka "The Jazz Doc," Honorary Local 47 Musicians' Union Member since 2002, died April 2, 2015, in Rancho Mirage, CA. Born and raised in Los Angeles, Nov. 23, 1925, he began playing bass at L.A. High School and played with the L.A. All-City High-school Orchestra and was principal bassist with the Peter Merenblum California Youth Symphony two of his high-school years. After a stint in the Navy, he had dance bands all through his undergraduate years at UCLA and later at USC's Keck School of Medicine, getting his M.D. in 1953. He also played two seasons with the Doctors' Symphony. He had an equal passion for running and was a cross-country runner starting in high-school, also at UCLA, and while there, was a record-holding half-miler.
During his 47-year practice of family medicine in Los Angeles, which he always addressed with a passion and devotion equal to his love of music, he made lasting friendships with a host of wonderful musicians whom he treated, whether they could pay or not. Long after legal blindness forced him to retire and Alzheimer's disease began to destroy his memory, those afflictions never dimmed his enthusiasm for playing jazz with friends assembled in his home in the desert and he continued to play the good changes right to the end of his life.
Dr. Gold's Honorary Membership came at the urging of long-time friends "Flip" Manne, the late pianist Russ Freeman and the late Bernie Fleischer. He was very proud of that commendation and happiest when around his friends in music. His wife of 56 years, Heather, and his five wonderful daughters would be pleased to think you might honor his memory by making a donation of any amount in his name to the Alzheimer's Association, found online at www.alz.org.