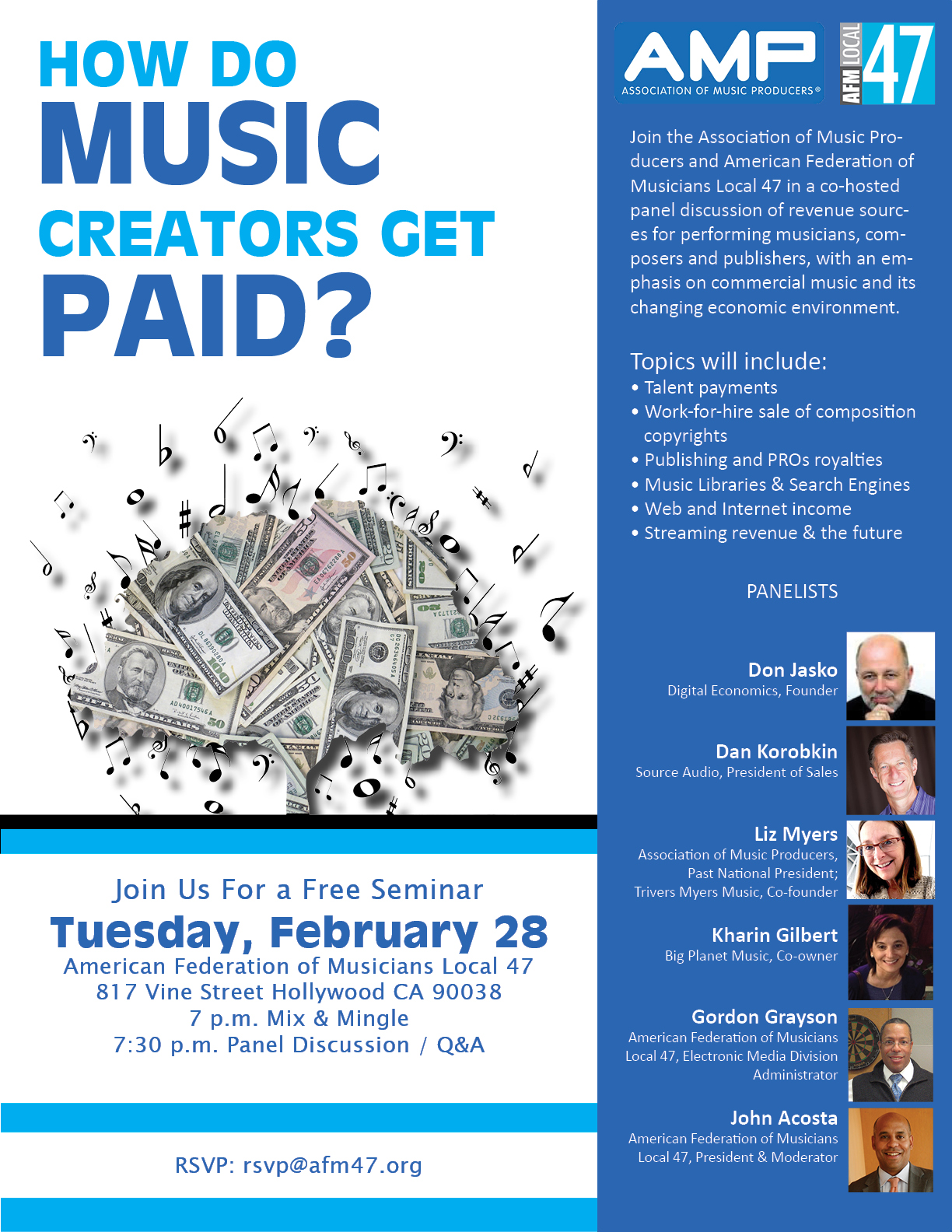 Download pdf flyer      RSVP@afm47.org

 ABOUT THE PANELISTS
John Acosta currently serves as President of the American Federation of Musicians Local 47, representing over 7,000 professional musicians in the southern California area. John also serves as an International Executive Board member of the AFM, Vice President on the Los Angeles County Federation of Labor Executive Board, Vice President on the Music Fund of Los Angeles Board of Directors, Director on the Actors Fund Western Council and Director on the Verdugo-Workforce Investment Board. John hails from the Bronx, New York. His father Juan Acosta was a percussionist from Cuba who worked as a touring musician with Latin jazz greats such as Tito Puente & Celia Cruz. In California, John began his recording career working as a composer, guitarist, producer and engineer for artists on  Warner Brothers, DreamWorks, Geffen, BMG, Elektra and Capitol Records. John's work as a musician lead to his work with Local 47, advocating for musicians rights.
Kharin Gilbert is co-owner of LA-based Big Planet Music which services the television market with original music and a boutique catalog of 3,500 tracks which she manages and administers. Kharin also clears popular music for a growing list of national advertisers and provides publishing administration for their original music acquisitions. As digital music consumption explodes so does the complexity of many licensing requests which may include limited downloads, "fan influencer" social media posts, behind-the- scenes footage, and participation in playlists for an advertiser's use to enhance promotions. Part and parcel with song clearances, Kharin's role includes negotiating and contracting with artists whose vocal and musical performances are part of the recording.
Gordon Grayson has served as Electronic Media Division Administrator at AFM Local 47 since 2010, where he interprets, enforces and negotiates national collective bargaining agreements for musicians engaged in all recording mediums including sound recording, motion picture, live television, and commercials. Prior to working with the AFM, Gordon spent 12 years with the Writers Guild of America, initially as a registration administrator providing protection of intellectual property for writers and songwriters. He later moved to the legal department and worked as a business rep for eight years, enforcing terms and contracts as well as negotiating settlements, sometimes handling as many as 40 claims at a time. He also worked as a production assistant and then production coordinator on a popular TV sitcom.
An attorney by training, Don Jasko served in various management positions at the American Society of Composers, Authors and Publishers (ASCAP), in which he was instrumental in transforming the process by which performance rights are licensed for broadcast television. Don was also instrumental in the development of the infrastructure that supports the direct and source licensing of performance rights in musical compositions. After resigning from ASCAP to found Digital Economics, Don was a major catalyst in the merger that created Verance Corporation, a leading watermark technology. Digital Economics provide publishing administration and product development services to its clients. Don is also a strategist and expert witness in litigation.
An internationally acclaimed composer and pianist for commercials, TV shows and films who has won numerous awards including a Clio Award for the arrangement of Gershwin's Rhapsody in Blue created for United Airlines, Elizabeth (Liz) Myers has become an outspoken advocate for quality music in performance and composition. Together with her husband John Trivers, she formed Trivers Myers Music, a boutique music partnership founded in 1984 which has composed and produced award-winning music for hundreds of top tier clients from Apple Computer to Verizon. Myers is a co-composer of the theme for the CBS Evening News, which has run nightly for over 20 years with Scott Pelley as the anchor. She was one of the first female music conductors on Broadway, becoming the Musical Director for the show Grease at the Royale Theater in New York. Myers also teaches a popular class at UCLA Extension in the Entertainment Studies Department entitled: "Put Your Music to Work: Composition for Commercials."