"Los Angeles is ground zero in the fight for the middle class in America. The Los Angeles Labor Movement is setting the tone for the rest of the nation in their fight against corporate greed in the U.S." – Yvonne Wheeler, President, L.A. County Federation of Labor
In every industry, every union, workers are saying enough is enough to wages that can't pay the bills and bosses who have profited off their hard work. Transportation workers, hotel workers, writers, actors, baristas, government workers, teachers, and healthcare workers are standing together in solidarity as they fight for livable wages, benefits, and fair working conditions.
As the Writers Guild of America strike continues into its third month — and now with SAG-AFTRA members striking alongside them — solidarity is flexing its power more than ever, with workers from all walks of life joining the picket lines. UNITE HERE Local 11 hotel workers in Los Angeles authorized a strike at 100 properties this summer, and SEIU LOCAL 1000 is escalating their actions for a fair contract. As of today, nearly 100,000 unionized workers are on strike in Los Angeles, with several more who could follow suit in a few days and later this year.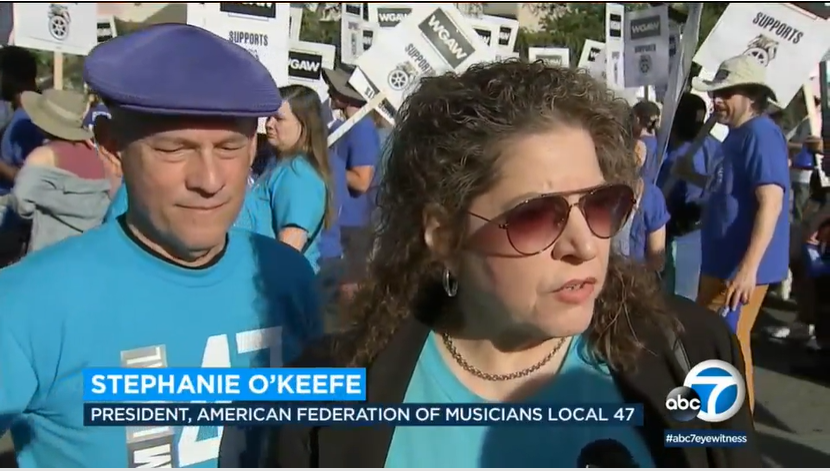 AFM Local 47 President Stephanie O'Keefe spoke to ABC 7 News during the UPS workers rally on July 19. Watch the clip here.
UPS workers, represented by Teamsters, held a rally on July 19 in downtown Los Angeles just over a week before their contract with the shipping company was set to expire. On the heels of the action, Teamsters were successful in reaching a tentative contract with 340,000 unionized workers last month, potentially dodging calamitous strike that would have disrupted deliveries for businesses and households nationwide.
In an unprecedented and impressive show of solidarity, thousands of workers gathered for a massive rally in downtown Los Angeles on May 26 to support the ongoing Writers Guild of America strike. In addition to WGA, many other unions, including the AFM, have contracts ending this year. Union members from all industries and trades including Hollywood entertainment, tourism and hospitality, public sector, education and logistics mobilized for a display of collective solidarity, rallying shoulder to shoulder to ensure that we all get our fair share of fair pay, better benefits, and strong contracts. Read more about the event here.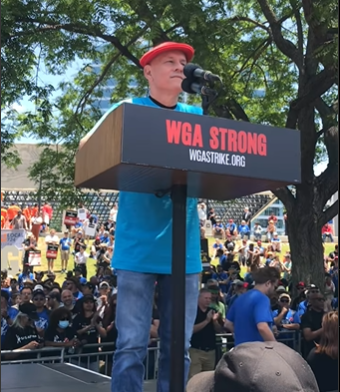 AFM Local 47 members joined with more than 5,000 supporters in a dazzling display of union solidarity at the WGA STRONG rally on June 21. Thousands marched from Pan Pacific Park to the La Brea Tar Pits, where an array of special guest speakers and performers voiced their overwhelming support for striking WGA members. Speaking on behalf of the American Federation of Musicians, our own Local 47 Vice President Marc Sazer took to the stage to share why musicians are in such strong support. Watch it here: part 1 | part 2
Since the beginning of the WGA strike musicians from Los Angeles to New York continue to picket in solidarity out on the line in support of writers — and now actors as well — who are stuck in stalemated negotiations with the Alliance of Motion Picture and Television Produce — the same employers that the AFM will be facing to negotiate a new film and TV contract when our contract expires in November. (Learn more about the Fair Share For Musicians campaign here.)
L.A. County Federation of Labor President Yvonne Wheeler shares these words with our city's union members:
"To the brave strikers, I applaud you for taking a stand and fighting for what's rightly yours. Striking workers are reminding the world that every worker deserves to live a dignified life.
"I am beyond proud of you and the entire L.A. Labor Movement. Thank you for your solidarity, we're showing the world what a UNION TOWN looks like.
"Brace yourselves, because in the coming days we are going to turn up the heat on this already sizzling Hot Labor Summer!"