Composer Jeremy Turner led an AFM Local 47 orchestra at the Warner Bros. Eastwood Scoring Stage in January to score the Netflix docu-series Five Came Back.
Adapted from the best-selling book by Mark Harris and directed by Laurent Bouzereau, the three-part series tells the extraordinary story of how Hollywood changed World War II -– and how World War II changed Hollywood — through the interwoven experiences of five filmmakers who interrupted their successful careers to serve their country, risk their lives and bring the truth back to the American people: John Ford, William Wyler, John Huston, Frank Capra, and George Stevens.
To guide viewers through the different personalities, interweaving chronologies and globe-trotting locales, the Five Came Back team turned to the voices of five modern cinematic masters: Steven Spielberg, Francis Ford Coppola, Guillermo Del Toro, Paul Greengrass and Lawrence Kasdan. Three-time Oscar-winner Meryl Streep provides the narration.
The Netflix series premiered March 31, 2017 only on Netflix.
All photos (c) 2017 Ricky Chavez/Buckets Moving Company/Allegro Entertainment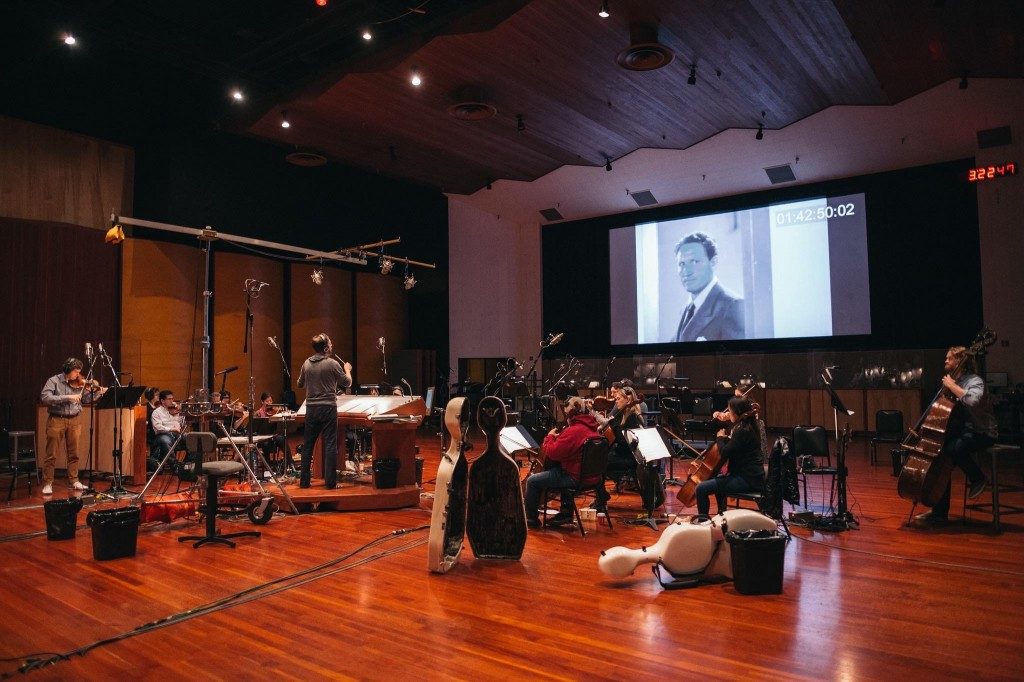 'Five Came Back' Orchestra
Warner Bros. Eastwood Scoring Stage
Composer: Jeremy Turner (AFM Local 802)
Violin Soloist: James Ehnes (AFM Local 190)
Piano Soloist: Randy Kerber (AFM Local 47)
Violin
Mark Robertson, concertmaster
Alyssa Park, principal 2nd
Ana Landauer
Eun-Mee Ahn
Darius Campo
Nicholas Eanet
Sanguen Eanet
Sam Fischer
Cheryl Kim
Songa Lee
Lucia Micarelli
Rob Moose
Neli Nikolaeva
Katie Sloan
Viola
Andrew Duckles, principal
Jessica VanVelzen-Freer
Luke Maurer
Darrin McCann
Cello
David Low, principal
Julie Jung
Dennis Karmazyn
Vanessa Freebairn-Smith
Bass
Tom Harte
Flute
Amy Tatum
Oboe
Jennifer Johnson
Christine Warren
Clarinet
Phil O'Connor
Rory Mazzela
Bassoon
Whitney Crockett
Samantha Duckworth
Conductor
Jeremy Turner
Scoring Engineer
Abhay Manusmare
Orchestrator
Arturo Rodriguez
Orchestra Contractor
Mark Robertson