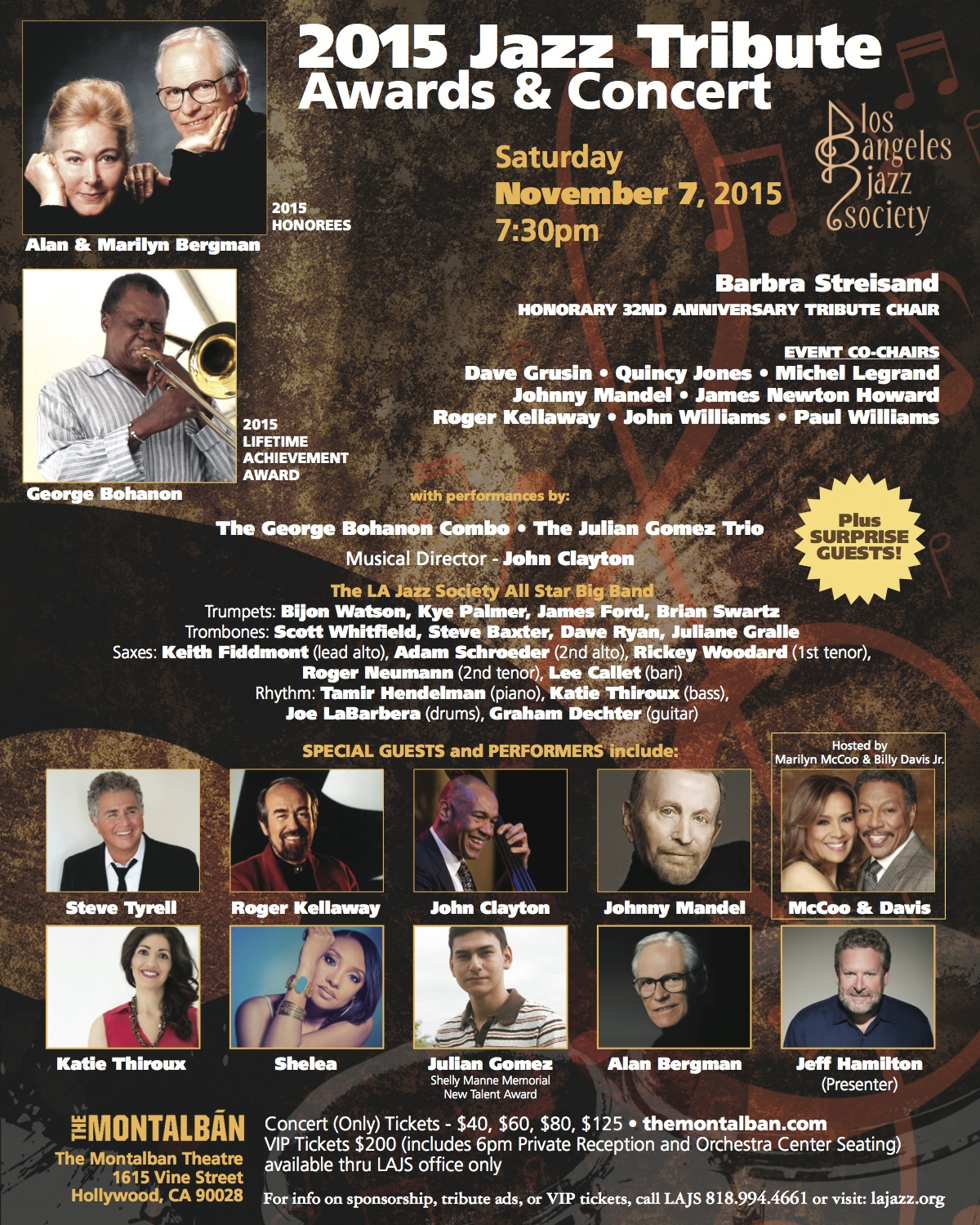 The Los Angeles Jazz Society presents the 2015 Jazz Tribute Awards Concert on Saturday, Nov. 7, 7:30 p.m. at the Montalban Theatre in Hollywood honoring several of music's greatest living treasurers.
Receiving the 2015 Lifetime Achievement Award is renowned jazz trombonist George Bohanon, a Life Member of AFM Local 47. He has worked with hundreds of performers on albums and concert dates for over 50 years.
Oscar-winning songwriters Alan & Marilyn Bergman will be honored for their outstanding contributions to the great American Songbook. Such classics as "The Windmills of Your Mind" from the 1968 film "The Thomas Crown Afair" starring Steve McQueen and Faye Dunaway, Billboard number 1 hit "You Don't Bring Me Flowers" for Neil Diamond and Barbra Streisand, and "The Way We Were" popularized by Frank Sinatra, are consistently being performed by many of today's noted jazz artists.
Streisand, who has teamed with the Bergmans on several award-winning musical projects, serve as Honorary Chair of the event. "Marilyn and Alan have played a prominent role in my sweetest memories," Streisand says. "In fact, you might say I remember the way we were, and I cherish the way our collaboration and friendship has stood the test of time." Grammy Award-winning recording artists Marilyn McCoo and Billy Davis Jr. will serve as hosts. Newcomer Julian Gomez will receive the Shelly Manne Memorial New Talent Award.
The program will feature an All-Star Tribute Band conducted by musical director and Grammy-winning bassist John Clayton, with performances by the George Bohanon Group, the Julian Gomez Trio, and numerous artists who have worked with and recorded Bergman compositions including Steve Tyrell, Johnny Mandel, Roger Kellaway, Shelea, Mcoo & Davis, and a few additional surprises!
The annual Los Angeles Jazz Society's Tribute Awards Concert attracts jazz musicians and appreciators as it celebrates jazz and the talented people who have made this extraordinary music their life's passion. The event raises funds for important jazz education programs that benefit thousands of young people in the LAUSD public schools. With dramatic budget cuts over the years, many music and arts programs in the schools have been eliminated. This annual tribute is the society's primary fundraiser to "Keep Jazz Alive" with its highly acclaimed programs: Jazz in Schools, the Bill Green Mentorship Program, Jazz Coolcats, and New Note.
For tickets ($40-$125) visit themontalban.com. For information on VIP tickets ($200 includes orchestra seats and a VIP reception) and sponsorship, please contact the Society office at 818.994.4661.