Serena Kay Williams made history as the first woman officer of AFM Local 47 when she was elected Secretary in 1984, a position she held until her retirement in 2007. Here we recall her legacy as a trailblazing musicians advocate and union leader.
Serena Kay Williams was born April 9, 1921 in Kansas City, Missouri. Serena's father, who was born in Liverpool, England, came from a musical family. In fact, Jascha Heifetz was her grandfather's nephew. Her mother, who came from Russia, also counted many artists in her family. Serena's parents owned a deli in Kansas City. Their cooking was so renowned that her father was crowned the "Chili King of Kansas City" using her mother's recipe.
When Serena was 4 her parents moved to Los Angeles because of her mother's health. Serena cared for her mother, who was very ill, and even was issued a special driver's license at the age of 12 so she could take her mother back and forth to the hospital.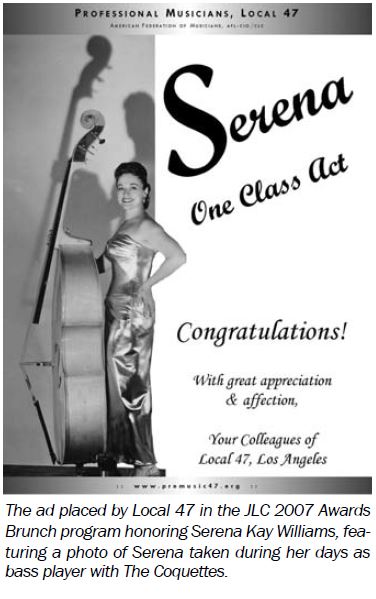 This precociousness also extended to her budding talent as an entertainer. As a young teen, she was already singing in vaudeville and with bands and acting in theater. Serena majored in acting and abnormal psychology at Los Angeles City College, where she received her degree. She appeared in various Paramount movies, including "The Ten Commandments." While pursuing her acting career, she also managed for a malt shop called The Big Dipper where she met Earl Williams, who would later become her husband. Earl was an orchestra leader. When he found out about Serena's singing talents and experience singing with many big orchestras, Earl signed her up to sing with his orchestra.
The Earl Williams Sweet With a Beat Orchestra was popular at bar mitzvahs, weddings and all kinds of parties and dances. While singing for the orchestra, Serena took bass lessons with the famous Nat Gangursky. She later worked for 18 years with a sultry female trio called The Coquettes – Doris Crane, Chickie Fortina and Serena on lead vocals and bass. The Coquettes became well known and traveled throughout the United States. They even performed for the Prince of Norway.
In 1942, Serena and Earl got married and later had a daughter, Shelley.
Serena got seriously involved in Local 47 in 1977, becoming a member of the board of directors. After many years on the board, in 1984 her friend the late "Spud" Murphy encouraged her to run for Secretary. In its 90-plus-year history, Local 47 had never had a woman run for office. Serena was a trailblazer; she not only ran, she won – much to her surprise. She became increasingly involved in the union and took on the jobs of Secretary/Treasurer and editor of the Local's monthly publication, the Overture. Having long played a major role in Local 47's daily operations as a respected and beloved leader, Serena served as Secretary/Treasurer until announcing her retirement in June 2007.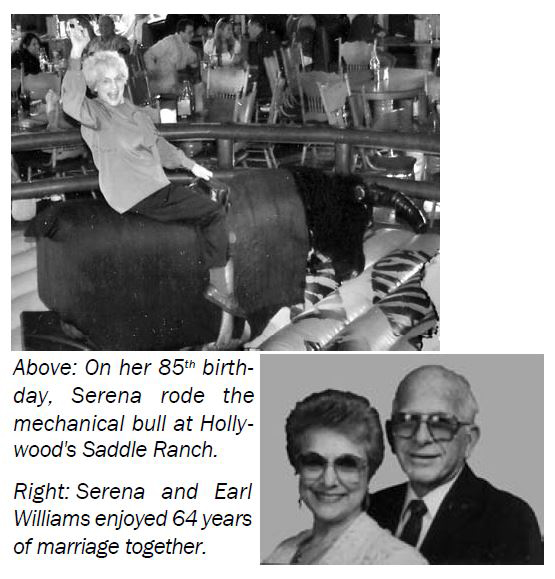 A tireless trade unionist, Serena has shared her expertise and energy with many community boards and councils in addition to her work at Local 47. She has held many offices, including vice president of the Los Angeles County Federation of Labor, executive council member of the California State Theatrical Federation, advisory board member of Los Angeles Trade Technical College Labor Center, member of the Administrative Committee of the Jewish Labor Committee, and member of the Alliance of Entertainment Unions and Guilds.
Throughout her career Serena has received countless accolades and awards, including the prestigious Grande Dame Award from the Industrial Relations Research Association. In April of this year, the Local 47 membership moved to honor Serena and Earl Williams by naming the Local 47 auditorium in their honor. Most recently, Serena was honored by the Jewish Labor Committee with the esteemed Jim Doherty Dor L'Dor Mentoring Award at the 73rd Annual JLC Awards Brunch on July 15, 2007.
Serena announced her retirement on June 29, 2007. She will spend her newfound free time with her daughter Shelley, son-in-law Steven and the couple's adorable Yorkshire Terrier, Dusty in her new home in La Quinta, California.
– Originally published in Overture, August 2007