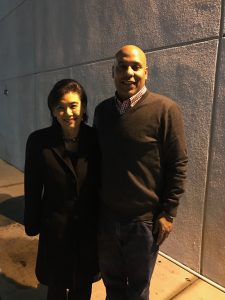 At our Presidents Day Town Hall the evening of Feb. 20, 2017, musicians welcomed an excellent panel to discuss healthcare, labor rights, tax credits for musicians, and arts education and funding.
Guest panelists were Congresswoman Judy Chu, RMA President Marc Sazer, ICSOM President Meredith Snow, composer/arranger and Secretary of Americans for Democratic Action Cliff Tasner, and WGA-W Political Director Corri Freedman. Members asked insightful questions about where the greatest threats would come from, and about how we could do effective advocacy.
For the second part of the meeting, members broke out into groups to begin planning collective actions that musicians could take to defend healthcare, arts and education, labor rights, and to attract scoring work through tax credits. Some members volunteered to be "Principle Organizers," committing to taking a leadership role in an event or an ongoing issue. Every member signed up to contribute to efforts around one or more issue.
We are developing a number of tools to help you communicate and organize your fellow musicians to get involved in political issues. Now that we've started to connect musicians that want to be involved politically, and built a framework from which we can plan and execute actions, let's get to work. Sign up here to work with Local 47 reps and organizers and participate in ongoing actions around healthcare, human rights, dignity, and diversity.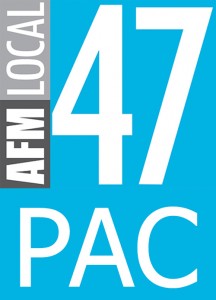 Let's Take Our Voices Straight to City Hall
Your voluntary contributions to the Local 47 Political Action Committee (PAC) Fund will allow us to take our concerns directly to City Hall by supporting candidates and legislation that further the goals and best interests of professional musicians in Los Angeles.
How to Donate:
– Check the "Local 47 PAC" box on your Dues Statement and write in your desired donation amount.
– Log in to your Member Account at afm47.org and click "payments" to make an online contribution.
– Mail a check or money order payable to "Local 47 PAC" to: Local 47 PAC, 817 Vine Street, Hollywood CA 90038.
For more information call the President's Office at 323.993.3181.