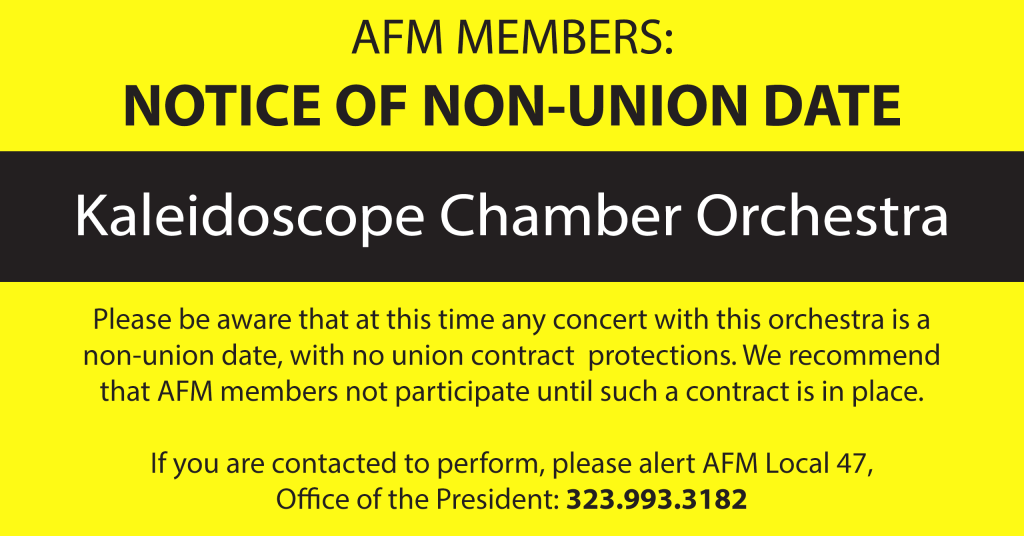 AFM Local 47 has been in discussions with Kaleidoscope Chamber Orchestra, a conductorless chamber orchestra based in Los Angeles, to try and bring them into an appropriate AFM contract. Unfortunately they have not agreed to sign on to a union agreement.
Their next concert takes place Nov. 18, 2017 at Walt Disney Concert Hall. If you are contacted to perform with Kaleidoscope, please be aware that at this time it is a non-union date with no union contract protections. We recommend that AFM members not participate until such a contract is in place.
Any musician performing at a major venue like Disney Hall deserves to earn a fair wage and benefits in line with industry standard. By making orchestras available for dirt cheap, employers come to expect bargain rates that undermine musicians' ability to pay their bills.
Members contacted to perform with Kaleidoscope are encouraged to alert the President's office at 323.993.3181.